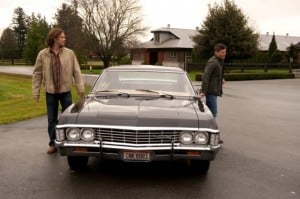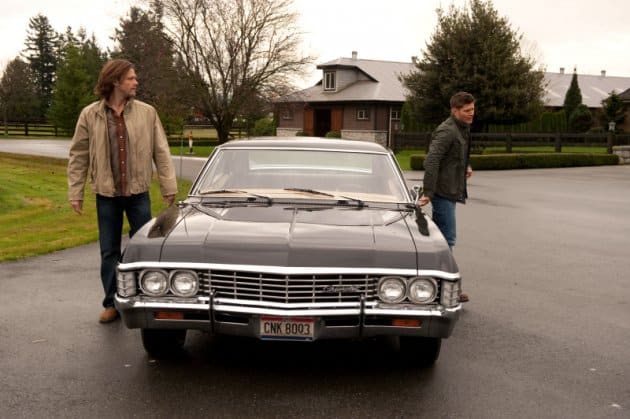 This week's Supernatural opened up a whole new can of worms with regards to the Winchester family mythology.
Not only did Sam and Dean meet their grandfather, Henry Winchester, but they also learned that he was a "Man of Letters".  The Men of Letters are not hunters, per se, but they are keepers of supernatural information and occasionally pass this on to hunters.  And, at the end of the episode, Henry imparted an important piece of information onto the boys that will carry them through the rest of the season: a supernatural motherlode box and the existence of an MoL (for short) "bunker".  This bunker will become a new home base for the Winchesters.  Because despite the warnings of the man who revealed the bunker's location, the boys will be making a visit.  For more about the episode, read our full recap and review.
During a Q&A with executive producer, Robert Singer, the new bunker was discussed, as were the objects Sam and Dean will find there and how this discovery will impact the brothers going forward.
New Information. "These Men of Letters [situation], which is a brand new concept for us…if you took [John's] journal and you multiplied that times 100, it's got every source of information that would be interesting to the boys.  Of course, when they get in there, Sam is totally immersed in the place and Dean is just happy to have his own room [laughs].  He says to Sam 'if you want to do this geek stuff that's fine with me, but I'm just digging this'."
The Bat Cave.  "The reveal of that [bunker], which I believe is in the next episode…it's a really stunning set.  It's full of mysteries [and] it'll become kind of a home base for the boys.  We're really excited about it.  After eight years of never really having a home base, this will be home base for quite some time and I think you guys will really dig the set.  It's really cool.  They'll go to great pains to keep that hidden.  It's also kind of impenetrable.  We've had places like this before [ie. Rufus' cabin].  They need a place, not just for us to have a set to shoot on, but I think that the boys need a place where they can decompress, have their bromance.  When you see this set you realize they have lots of room to move around and there's lots of really cool things in there.  Adam [Glass, the episode's writer] came up with this idea and we really latched on to it immediately.  It's a very expensive set and we're going to be using it [a lot]."  But don't expect Sam and Dean to encounter any other men like their grandfather when they find the bunker.  Singer said that the other Men of Letters are "all gone.  The last surviving one was the old guy in the home and he's no more.  When they go in there it's pristine, it's been hermetically sealed."
See our newest slide-show: Most Memorable Winchester Relatives Scenes.
Secrecy and the Tablet Connection.  The MoL bunker is not just a source of information, but it will also play into the overall tablet storyline and will be a cause for secrecy for the Winchester brothers.  "This all plays into the tablet business.  If, for instance, Crowley got his hands on the Angel Tablet and could somehow decipher it it would be kind of a bad thing.  The information that is contained in this Men of Letters bunker…if it fell into the wrong hands would be quite a powerful weapon against the boys.  So it has to remain a secret and guarded closely.  As we go down the life for the rest of this year and hopefully next year, dramatic turns will take place because this is an important place."  But will they share this information and the bunker with their closest allies?  Singer hinted that "I think it's on a need to know basis.  I don't think you're going to have a hunter convention in there. It's not their style.  I would be surprised if Garth didn't show up and probably break an expensive globe."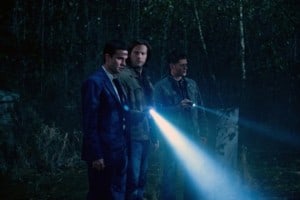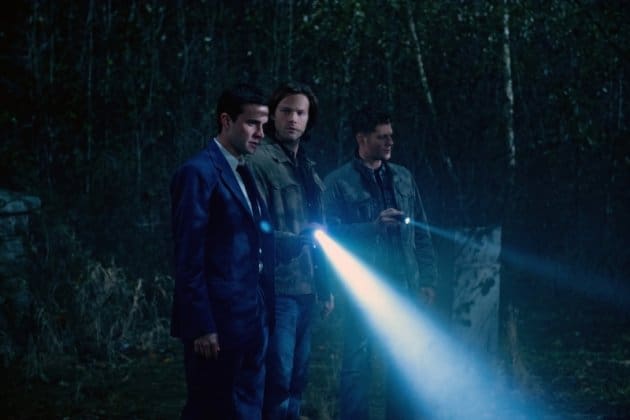 Henry's Death.  Despite Henry wanting to return home and possibly making things right with John, he ended up dying this week and Singer said that, unlike with Samuel's prolonged return in season 6, Henry's death was always in the cards.  "I think we want to close it and it's kind of a nice bittersweet moment and they got to make a connection with a grandfather.  One of the themes that we always sort of play [is] that people they get close to, it doesn't work out so well for them.  They're kind of traditional loners and what they have is each other.  And I think we wanted to keep it that way.  That was always the plan with Samuel as well, that it would not be something that would go on a long time."  Despite resolving himself to Henry's death, Singer did say that "in retrospect, you sort of wonder what that would have been like [if John had grown up with his father].  [John] was supposed to become a Man of Letters, but he actually became a hunter through necessity."
Turning Point for Sam and the Quest for a Normal Life.  This week's Supernatural – and well as the discovery of the bunker – will gave Sam another push towards recognizing his place in the Winchester mythology.  "When we get [deeper] into this whole idea of closing the Gates of Hell, that becomes a real raison d'être for Sam.  It's really revenge motivated, it's about what killed their mom, killed their friends.  I think Sam would see that there's a certain amount of closure if they could pull this off.  I think still he, in the back of mind thinks there's a normal life out there for him.  In a way, Dean's on board with that.  He'd like to see him happy, but they have this one thing to do.   [But because this is television] they'll have something else to do down the line.  I think it's actually a good separation of character for the two of them that one has one set of dreams and actually allows himself to dream while the other is much more fatalistic and sort of accepts that.  I would hope, whenever we bring the curtain down, that Dean would find some peace [as well as Sam].  And if I have anything to say about it, he will.  He'd like to finish this particular job and then go off and keep doing what he does."
You can read more about Singer's teasers for the return of several characters here.
Don't miss an all new episode of Supernatural on February 6.  Visit our Supernatural page for spoilers, reviews, sneak peeks, photos and more.