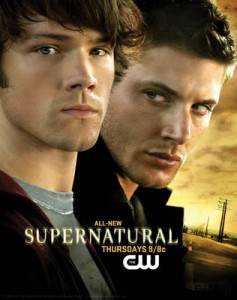 I feel like all I'm doing lately is writing spoiler articles for Supernatural (like this one about new and returning characters that I posted earlier this week). But that's okay, I guess. It makes me happy and a lot of you seem to like it as well. Ausiello recently spoke with series creator (aka God) Eric Kripke, who had this to share about the season 6 storyline, as well as giving reasons why he's stepping down from his showruner position and ceding day-to-day control to executive producer Sera Gamble.
Why is he stepping down then? Kripke had always planned a five season arc for the show and now that it's returning for a sixth season, he feels the time is right to step down. But don't worry, he still plans on being involved – including writing an episode, directing an episode and being involved in the episode pitch meetings:
We were reaching the end of this five-year story line [so] I thought the timing was right. I knew that we were closing this chapter and opening a new one. It felt like it was the right time to take a step back and focus on new projects, but still keep my grubby little mitts in the show. It was a lot about Sera and her enthusiasm and her ambition. I really think after five years of all of my crap, to have someone who has a fresh perspective and a fresh energy on these characters and this universe is healthy for the show. Supernatural has always been a show about reinvention. We try really hard not to do the same thing. I thought that Sera's [increased] involvement really helped guarantee that this season is going to feel a little different, a little fresher. She has a different sensibility.
To those fans who say the show should have ended after five seasons, Kripke wants you to know that people also stated this at the end of season 2, when they killed off Azazel, but that the show remained strong (and, arguably, gave us some of the best episodes in season 4, with the introduction of the angel mythology).
This is a show that ends story lines and starts new ones and re-invents itself. I think because it is hard-wired into the DNA of the show it will weather a lot of transition and growth. The question is not should it have ended, the question is, Is the new story line compelling and interesting and is it an arena of this universe that we haven't explored yet and is it putting Sam and Dean into new situations that we haven't seen before? I think it does all of the above.
As for how the storyline will play out in season 6….first of all, it will not become Two and a Half Men. Ausiello also reported recently that we should not expect Ben and Lisa to join the boys on the road. The angel storyline is pretty much done, but we will see the after-effects. Castiel will be returning and it looks like we may learn more about the origins of certain demons:
One of the first things Sera and Bob talked to me about was that the angel thing is rightfully exhausted, so where do you go from there? Not to say that angels and demons won't be a part of the story line because they will. Castiel will be there. Crowley will be there. The beloved characters will be threading into the story. But the great undiscovered country of Supernatural is kind of right in front of our face: creatures and monsters. We have had so many creature episodes but we haven't actually explained where they came from–[similar] to the way we have explored angels and demons. How do they feel about the situations they are in? Are they from here? Where did the first ones come from? How did werewolves and vampires and shape-shifters all begin anyway? I thought that was a really smart notion on [Sera and Bob's] part, just exploring the history of that, because that was something that we never investigated on the show.
Finally, for those (like me) who are wondering how Mitch Pileggi's Grandpa Campbell will fit into the storyline in season 6 as a recurring character, Kripke is vague:
He's representative of the other side of this exploration, which is that Sam and Dean have a family of hunters that they never knew they had. Their grandfather is the head of that family. Remember, it's not the Winchesters who are famous hunters, it's the Campbells. And we are saying that the Campbells are part of a time-line of hunters that have been there since the country's origins. As Sera put it, they were hacking heads of vampires on the Mayflower. For Sam and Dean to really tap into a family history, which they never knew they had and again never really investigated before, is pretty interesting to us.
So…does that mean we'll be getting flashbacks to the Campbell storyline as Sam and Dean learn more about their family history? Will we see the awesome younger version of Mary Winchester again?