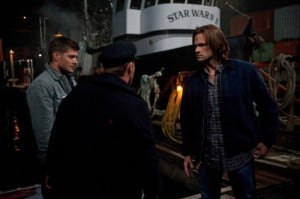 Remember the Winchester family friend named Martin who appeared in the season 5 Supernatural episode "Sam, Interrupted"?  Well, he's gotten out of the mental institution and back into the hunting game in an early December episode of the show.
The episode, titled "Citizen Fang", brings Sam's distrust of Benny back to the forefront.  "SAM PUTS A TRACKER ON BENNY — Sam (Jared Padalecki) asks a hunter named Martin (guest star Jon Gries) to keep an eye on Benny (guest star Ty Olsson) without telling Dean (Jensen Ackles). However, when Martin tells Sam there was a vampire kill and he thinks Benny is responsible, Dean defends his friend. When Martin decides to take things into his own hands, things get messy and Dean is forced to make a very hard decision. Nick Copus directed the episode written by Daniel Loflin."
It seems like this may serve as the penultimate or final episode before the mid-season finale in mid-December, so it wouldn't be a stretch to assume that there might be major angst leading into winter hiatus.  But the question is: will the Winchester brothers be together or divided as we head into Hellatus?
Don't miss this episode of Supernatural on December 5.