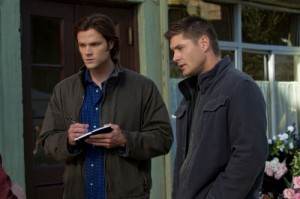 Earlier this week it was announced that Supernatural had won the TV Guide magazine fan favorite poll. The issue was released today and provides a few spoilers on the mid-season finale, the first episode back from the break, and the craziest meta episode that this show has ever done.
In the mid-season finale, both boys go to great lengths to get what they want. Sam asks Balthazar for help with a spell to ensure his soul can't be returned to him. When the spell calls for the blood of his father, Sam goes after the next best thing: his surrogate father Bobby. Dean, meanwhile, bargains with Death to retrieve Sam's soul from Hell, and agrees to act as Death for a day.
After the show's winter hiatus, Supernatural will return on January 28 (with most other CW shows returning that week). The episode will be entitled 'Like a Virgin'and apparently virgins in a small town are being kidnapped by a massive dragon, complete with wings, scales and a lair. The boys swoop in to try and solve the mystery. Executive producer Sera Gamble says 'it's a good episode to watch if you're interested in our monster mythology. We answer the question of why, after all this time, this creature has returned now. There's a pretty big bombshell."
Monster mythology aside, 'Like a Virgin'will deal with the emotional fallout from the mid-season finale. TV Guide says 'Sam survives his arduous trials and faces both Dean and the skeptical Bobby. But is it the same Sam who entered Hell more than a year ago?'
That quote would indicate that Sam's soul is returned to him, but is obviously damaged. Gamble promises that we will see Sam and Dean working together more throughout the season and they'll start behaving more like the brothers they were in the old days.
Expect to see more about the battle between Castiel and Raphael. The angel battle for Heaven will continue and Gamble says that Raphael will make 'an aggressive personal move'against Castiel.
As for the next meta episode, it's going to be pretty insane. The brothers have learned that their lives are the blueprints for a series of books and have attended a convention, but now they'll wake up as their real life counterparts — Jared and Jensen — who act on a TV show called Supernatural. Wouldn't it be hilarious if Sam woke up as Jared and was married to Genevieve Cortese, who played Ruby on the show? That would likely lead to a big freak-out. Misha Collins also talked about this episode in a prior interview with AOL, so it stands to reason that Castiel might appear in it as well – both as himself and as Misha. This is a bold idea and normally I might be worried, but I've liked most of the meta episodes so far, so I'm willing to give Supernatural – and writer Ben Edlund, who is awesome – a chance.
Go buy the magazine, Supernatural fans! Who knows if there will ever be another cover for this show again!
You can view a promo and photos for the December 10 mid-season finale. You can also view a sneak peek for the episode here.
clarissa @ tvovermind.com
twitter.com/clarissa373
twitter.com/tvovermind