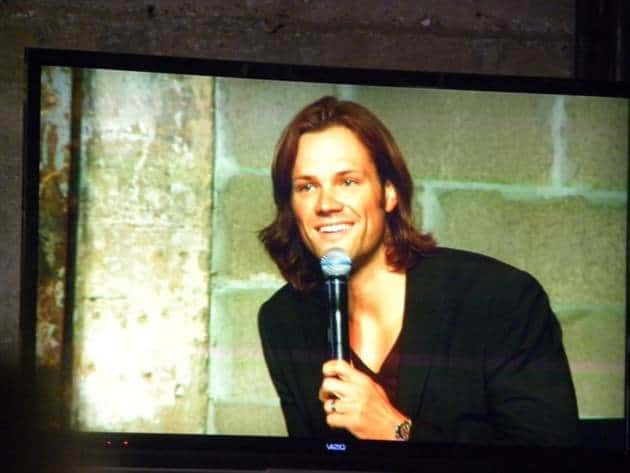 For its sophomore year at Comic-Con, Zach Levi's Nerd HQ took over a 15,000 square foot venue in the heart of San Deigo's Gaslamp District. With a bigger, brighter venue, the Nerd Machine raised thousands of dollars for Operation Smile by hosting "Conversations for a Cause" with stars and fans. According to Zach, sponsor Intel was planning to match all money raised from ticket sales during the Saturday and Sunday panels, adding an extra $30,000 onto the other money raised for charity.
For the second year, Supernatural star Jared Padalecki appeared as a favor for his friend Zach and chatted with fans for an hour after the show's panel and press room at the convention. Like last year, Jared was amusing, personable and charming. Having a few Supernatural conventions under my belt at this point (unlike when seeing Jared at Nerd HQ last year), I knew that spending an afternoon watching Jared answer fan questions would be nothing but a good time.
He didn't disappoint, giving us a lot of insight into the show, as well as amusing personal anecdotes.
Would Sam Have Gone Back to Chance a Decision He Made? "I don't think he would have kill that Ruby chick," Jared joked, since he's now married to the actress who played Ruby in season 4. "To be serious, I think that the nature of the show is that they both treat life as a learning process. They don't really try to think of things in term of '˜mistake'. So he probably wouldn't change anything."
What's His Favorite Season? "I really, really, really liked season 4. As an actor, you start to feel what you're acting. The weird, strange power of the demon blood made me feel like I was some cool, powerful guy who was saving the world. And, also, I fell in love [with his wife Genevieve]. Also, Jensen and I felt….when we did '˜Houses of the Holy'[in an earlier season], we called L.A. and said '˜are we turning this into some religious show? We don't want to make some statement on angels, demons, the devil? We signed up for ghost stories. We signed up for The X-Files with brothers. Now there's an angel or something?'[They said the show wouldn't become that but] all of a sudden there was an angel [in season 4] and demons. But it was great and they did it in such a way that it was up for interpretation. I also like being soulless."
Which Episodes Are the Most Memorable? "The one that I really remember is '˜I Know What You Did Last Summer'. I know," he said, when the audience started cheering because of the sex scene between him and Genevieve, "Keep it clean!" He was really disappointed when we didn't see more of Sam's time while Dean was in Hell. "I was really excited to tell that story. It was really a Sam-heavy episode. He was drinking and tortured and killing people. I worked really, really hard on it. And '˜The French Mistake'sticks out for me."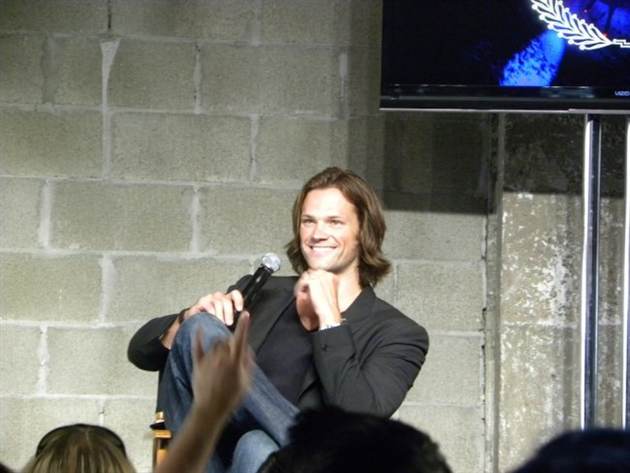 Did He Make Up a Backstory for Sam Winchester? "I did it a lot before the pilot." Because he grew up doing theater in high school, he was used to making up a story for his character. "I remember the story that I told myself before Sam and Dean saw each other in the pilot. It was basically that I hadn't seen him in two years because he had slugged me because I had called him a jerk because he had been sleeping with one of my girlfriends. it's kind of intense. I had to make something strong enough for me not to see my brother for years and years. There was like…I had a girl, my brother slept with her, we into a fight, he slugged me and I just walked away instead of fighting. Sam is a high road guy, or he tries to be. I wanted it to be Sam taking the high road and leaving. It also explains better why Sam takes the stand he takes when they talk when Jess is there." After seven seasons, we know that it wasn't a fight over a girl that kept the Winchesters apart while Sam was in college but, rather, Sam's issue with his father and a life of hunting. Still, we could see Dean Winchester macking on his brother's girl, couldn't we? Especially since he apparently moved in on Sam's prom date in an alternate reality episode at the end of season 2.
Does He Prefer the Comedic or Dramatic Episodes? "I am not fishing [for compliments], but I've always had a really tough time with comedy. I like the drama. Comedy mortifies me." He asked Zach how he does comedy, to which his friend replied "do you know how many times these people laughed for you already?" "In all honesty, it's scary," Jared continued. "I'm a cry-baby, I can cry all over the place. But to make a joke, it's scary. I usually have a really tough time trying to do the comedy. I'll figure it out someday. I'll figure out how to be comfortable with it."
What Does He Think of Sam and Castiel's Relationship? "I think I like that Dean and Castiel are friends and they have something to share. Sam kind of had that with Ruby. Sam had someone to go to who '˜understood'him, even though it was messed up. I think it makes sense for Cas, as an angel, to always harbor that against [Sam]. Since season 4 was an important part of Sam's past, I would kind of upset at the show if Castiel let it all go away. I like that Supernatural, as a show, is loyal to [its past seasons]."
Could Zach Guest Star on Supernatural? After a fan suggested that Zach make a guest appearance as "as Bobby's illegitimate hunter son" Jared quipped that "Zach specializes in illegitimacy." "That was a secret, Jared!" Zach shot back, then explained "The reason I did Nerd HQ was just to get people to invite me on their show. Right now I've got job offers from Supernatural, Psych….I'm doing very well!"
Who Would Win in a Fight: The Winchesters or Zach's Character Chuck? "He would beat the crap out of me," Zach moaned. "This daddyhood has made me soft," Jared countered. "I went for a walk and I got winded. I'd put my money on him." "OK, I take it back," Zach jumped in, "I'd kick his ass."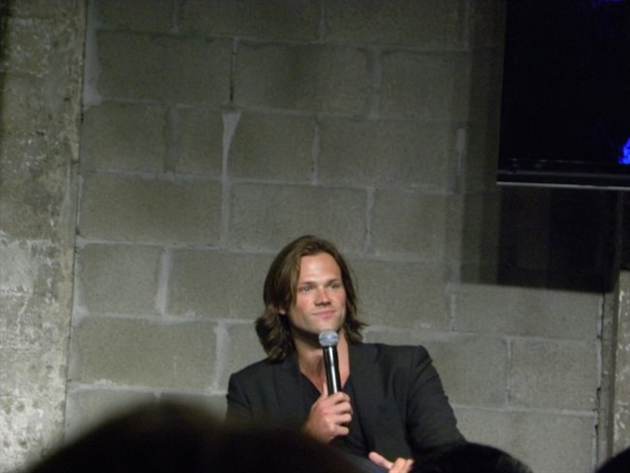 How Is He Liking Fatherhood? "[Baby Thomas] is tremendous [after being brought into the world after 54 hours of labor!!]. He's big and fat and happy. We call him Hippo-po-Thomas. Fatherhood is amazing and it gets better every day. It's terrifying at first because [babies] make noises when they breathe. And every time [you freak out thinking] '˜he's dying! Call the doctor!' But you just realize they're pretty durable, babies are. I mean it, you can toss them across the room. Just give him some milk and they're alright," he joked.
Personal Music Video Project. Jared confirmed that he recently finished appearing in a music video for his friend Brian Buckley, from The Brian Buckley Band. "He has a great song called 'I am Human.' I've always teased him '˜when are you going to put me in a music video?'I don't know the last time I did something purely for myself. I literally flew from Austin to L.A. for one day to shoot it. It's a great song and having talked to him about what's it about, I wanted to be part of this song. This was not for any profit. It's because I'm passionate about this song." What other music does he like? Pearl Jam's 'Just Breathe', which he played the first time he spent time with his son just after he was born, as well as '˜Fake Plastic Trees'by Radiohead.
In the middle of his panel, the self-proclaimed Star Wars nerd heard the audience (led by Zach) sing 'Happy Birthday' to celebrate his upcoming birthday on Thursday. "You look great for 54, by the way," Zach joked.
If you're going to Comic-Con next year, make a point to visit Nerd HQ, which is definitely a fun addition to the overall convention experience! Watch the full panel and browse through photos below.

Live From Nerd HQ: Jared Padalecki – Watch More Funny Videos