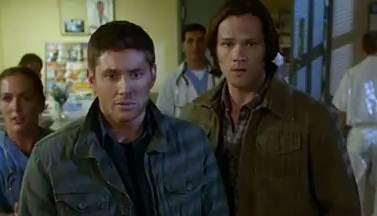 This week's Supernatural featured Sam, Bobby and Dean heading to New Jersey to track down a creature in the woods. Something was attacking and eating campers in the Pine Barrens. The boys quickly dismissed bears as the cause and went hunting in the woods to figure out its true identity. Unfortunately, their new friend, Ranger Rick, got eaten by the monster. Bobby shot it and they soon realized that the creature was a heavily mutated man.
Apparently the leviathans were creating special sandwich patties that made people "complacent". Dean got "stoned" on the Biggerson's special leviathan sandwich, which ended up spitting up grey goo (gross!). Unfortunately, some people reacted badly to the sandwiches and became carnivorous. When head leviathan Dick Roman – who had encouraged this plan – found out that some of the test subjects ended up in the papers, he made the doctor leviathan who was doing the experiments eat himself. Bobby got himself captured by the leviathans, but Sam and Dean managed to procure some of the borax cleaner and stormed the facility.
In the end, the boys escaped, but Supernatural left us with a cliffhanger. One that's been done before (earlier this season, in fact), but that's still effective enough to freak us out: Bobby had been shot. Possibly in the head. For more details on this week's episode, read our full review.
Supernatural is on hiatus next week, but the midseason finale will air on December 2. Here's the good news: Bobby is still breathing. But here's the bad news: the episode is entitled "Death's Door" and our favorite old hunter might not make it.
Watch a promo for the December 2 episode of Supernatural below. Browse through episode photos here. In honor of tthis episode, check out the Supernatural slide-show we posted earlier today about the show's most memorable monsters & creatures.