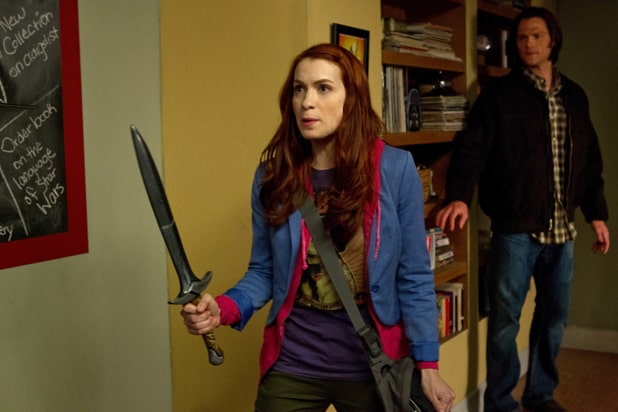 Here's some fun casting news for Supernatural fans: Felicia Day will be returning as the adorable hacker Charlie in an upcoming season 8 episode.
Day tweeted the news today, saying: "You guessed right!!! What better place to be on Halloween than on the set of #Supernatural? Charlie's back! :)"
Based on the shooting schedule, it appears that Charlie will resurface in episode 8.11, which, if you'll recall, will focus on LARPing (a fitting episode for the geeky – but adorable – Charlie to appear in).  We first met the Roman Enterprises hacker in the season 7 episode "The Girl with the Dungeons and Dragons Tattoo".  At that time, Dick Roman had approached Charlie about breaking into a hard drive he had procured from Frank Devereux.  Fortunately for Charlie, the Winchesters managed to get her on their side and saved her when a sting operation inside Roman Enterprises went badly.  When we last saw her, she was leaving on a bus for parts unknown.
Will Charlie return to help Sam and Dean track down the Word of God?  Whatever the reason, we're happy to see Charlie again!  And she's not the only guest star to return this season.  DJ Qualls – who plays hunter Garth – will also be returning in next week's episode 8.06 "Southern Comfort" (view photos), while an old Winchester family friend – Martin, who was first introduced in a season 5 episode – will also be returning for episode 8.09.
Supernatural airs on Wednesday nights at 9:00 p.m. ET/PT on The CW. For more spoilers, reviews, photos and sneak peeks for season 8, check out our Supernatural page.