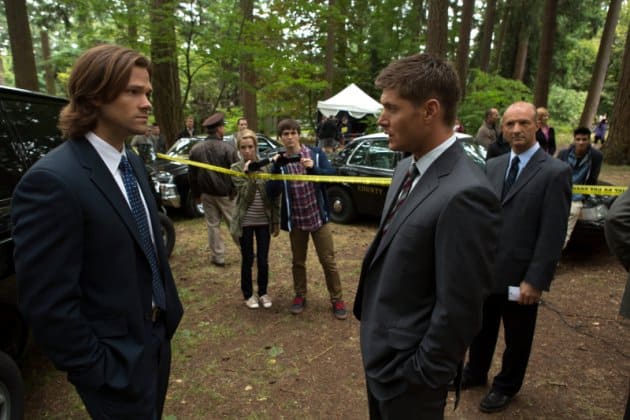 The winter Supernatural hellatus is upon us and, as is the tradition here at TVOvermind, I've once again called on my group of fellow Supernatural reviewers across the internet to share our thoughts.
Participating in this roundtable review are: myself, Laura Prudom from Huffington Post TV, Vinnie from Winchester Brothers, Danielle Turchiano from Possible By Pop Culture, Alice Jester from Winchester Family Business, Marisa Roffman from Give Me My Remote (our new addition this year!), and Tina Charles from TV Guide.  We hope you'll stick with us to the end, because while this is a very comprehensive (read: long) midseason review, we've got a lot of opinions to share and a lot of topics to get through. 
Dean's Story: Purgatory, Fighting Flashbacks and a Renewed Sense of Purpose
Dean spent most of season 7 in a funk. Understandably crushed by the losses he has suffered over the years – not to mention the recent betrayal by his good friend Castiel – Dean really struggled to find purpose in hunting. Conflict with Sam over his decision to kill Amy, not to mention the staggering loss of Bobby pushed Dean to depression and alcoholism. Who would have thought that spending a year fighting his way through monsters would give old Dean a renewed purpose in hunting? Mopey Dean in season 7 was attractive, but it felt like the character had lost some of the fire that made him the man we know and love.  "I think Purgatory was the big surprise for a lot of viewers this season – I know there was some fan trepidation about how long Sam and Dean would be separated for before the season began, and I thought that the flashbacks were a nice narrative device for fleshing out the past year without sacrificing the present-day story," Laura said.
"Sending Dean to Purgatory ended up being the best storyline for the character," Tina said. "The past couple of seasons his story just kind of laid there. He had plenty of airtime but no discernible story other than the Winchesters vs. the Leviathan stuff. There was his drinking but that didn't lead anywhere either." But simply sending Dean to Purgatory could have turned out very differently had the show not actually shown us the flashbacks to his year there. All of us were in agreement that Dean's flashbacks were comprised of stellar – and welcome – scenes. "I was afraid Purgatory would be lackluster, or worse, repetitive [after Hell], but I think what sold me on Dean's Purgatory experience was the fact that this time the show actually allowed us to see it and therefore experience it with the character," Danielle gushed. "Hell was a lost chapter for Dean, for the show, for the fans. Our minds can fill in images of what it must have looked like for Dean to be taken off the rack and start torturing, but we were thrown into the trenches with Dean (and, to a degree, Castiel and Benny) in Purgatory. The flashbacks were shot with such a frantic style, between quick cuts and jittery frames, they never let you get comfortable. You felt like you were being watched and that you could be attacked at any angle. It was equal parts beautiful and haunting and absolutely terrifying– in the shooting style but also in the storytelling in general."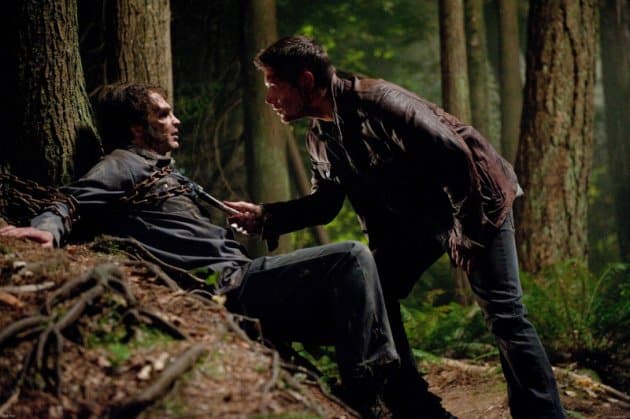 "I really like the way Dean's flashbacks have been handled," Alice agreed. "They've been a good  depiction of a man who found himself dropped into a brutal war zone.  I love the overall feel of the flashbacks, using the sepia tone to accent the grim surroundings, the shakiness of the camera, Dean's hard edged brutality at times, not to mention making something that pretty look so grungy and filthy.  I guess they don't have showers in Purgatory.  There no liquor either, which is really great.  It's so wonderful not seeing Dean with a constant drink in his hand." Marisa also acknowledged that the Purgatory story struck the perfect balance for the character. "Purgatory changed Dean. We've seen shadows of that throughout the season – and more overtly displayed in the hours with full-on flashbacks – and I'm truly impressed with the balance they've struck of not totally glossing over what happened, while not constantly hitting us over the head with, 'Hey, remember how Dean spent a year in purgatory?'"
Perhaps the only thing we're all lamenting now is that the flashbacks have seemed to come to a conclusion with the return of Castiel. "Dean's Purgatory storyline is one of my favorite things Supernatural has ever done. I love the way it's presented, both visually and conceptually. I liked it so much that I wish we'd seen more of it, but it's Supernatural so it's possible those flashbacks aren't over yet," Vinnie lamented.
As for Dean's return from "God's armpit" in the season premiere – and the subsequent affect it's had on his psyche – we've enjoyed the subtle nature of his PTSD. "Dean's return has played out well.  His behavior makes sense to me," Alice explained. "He's raw, on the edge, and has had to ease back into his life slowly.  The transition hasn't been easy.  He's making hard decisions that often don't consider the human factor, much like a person making life or death decisions during war.  It's all about survival.  Trying to kill Mrs. Tran when she was possessed by Crowley is the best example.  He's also gone too far with Sam and his passive aggressive hints about not trying to find him during the year and giving up hunting.  I don't think he's really suffering from PTSD as much as adjustment disorder.  He's calmed down a bit in the later episodes.  He harder though, and he's not going to sugarcoat realities.  Purgatory did profoundly change him."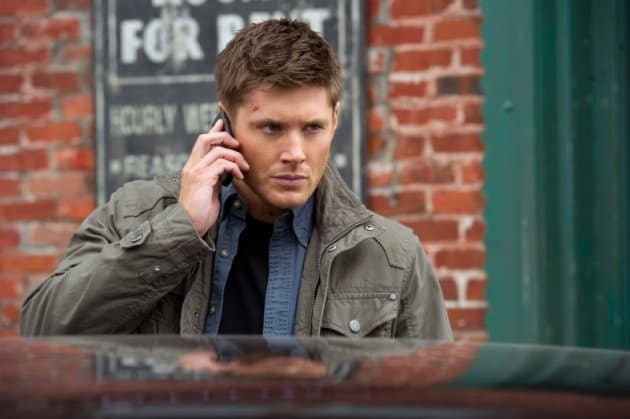 Although some of us, including Danielle, had hoped to see his reintegration into "normal" society play out a bit longer: "I hoped the show would do more with the PTSD of Purgatory because of just how unique and dark Dean's situation was there. There was a nice moment in the season premiere where he's zoned out, trying to make sense of something so mundane (but formerly loved) as junk food and in a split second, he switches to completely on edge as he hears two kids playing with toy guns. I was hoping for more of those moments that snapped him in and out of Purgatory in his mind. At the very least, he should have been sleeping with at least one hand on one weapon at all times!"  On the flip side, Laura argues that "While a part of me wishes we'd seen more of his PTSD, I also think that to have made him too much of a wreck after Purgatory would've just retraced the missteps of Season 6 and Season 7, where he was barely functioning and totally miserable."
Yet, no matter how brief his recovery time from Purgatory, there's no denying the fact that post-Purgatory Dean has made all of us excited about him again. "I personally have a much greater fondness for this version of PTSD Dean versus season 4 or season 7," Vinnie said. "I'm enjoying his blunter approach and I'm enjoying that he's not hiding inside a bottle of booze, because that was becoming tedious." But it's not only New Dean that has us excited, it's his two travel companions in Purgatory that also piqued our interests. The introduction of Benny, including the writers' decision not to turn him into Ruby 2.0, was a stellar idea for the storyline. "One of the most intriguing things to me this season has been Dean and his relationship with Benny," Marisa agreed. "Their experience in purgatory and subsequent bond is fascinating and wrong and so not something I would have thought Dean would have done a couple of years ago…and yet it makes sense." As for our opinions on Benny himself, we'll get to that shortly.
Next Page: Sam's Story…