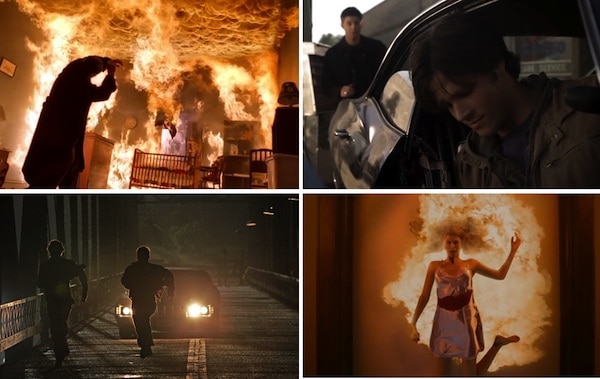 Go back to the beginning of Supernatural.  The very beginning.  When the show began, we got a healthy dose of mythology in the pilot and then much of the first season was stand-alone episodes while the show found its legs.  Could you have predicted the mythology that would spring from that first episode or that first season?  Could you have predicted that one day the Winchester brothers – who just wanted to find their father and kill the demon that took away their mother – would become embroiled in the apocalypse and the games of Heaven and Hell?
Mythology has always been a fantastic compliment to the monsters-of-the-week that Supernatural can also do so well.  But it's the mythology episodes that have often given us the best performances by the actors and the deepest insight into their characters.  The season premieres are often heavy on the mythology, hence the timing of this particular slide-show.  As we delve into the mythology of season 8, it's nice to take a look back at the long-running threads of the series and the spectacular episodes that have been spawned by them.
For the purposes of this slide-show, I would define mythology in two ways.  The first is the typical way in which it relates to the season-long arcs.  Storylines surrounding psychic chidren in season 2 or the apocalypse in seasons 4 and 5 are clearly the mythology of the show.  The second definition – for me – concerns the characters.  Because insights into their history shape the characters as we know them now, I consider character-based episodes to be mythology as well.  And believe me, Supernatural has given us some fatastic character-based episodes.
Browse through my picks for Supernatural's best mythology-based episodes, from the pilot to the end of season 7 and then share your own thoughts in the comments below.
Don't miss a new season of Supernatural beginning on Wednesday, October 3 at 9:00 p.m. ET/PT on The CW.  Keep an eye on our Supernatural page for more season 8 details, spoilers, previews and reviews.