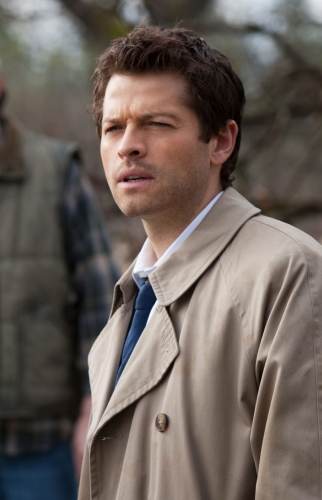 AOL's Laura Prudom met up with Misha Collins (Castiel) at the Asylum convention in England recently and chatty Misha managed to let quite a few Supernatural spoilers slip – not only about Castiel's upcoming role in season 6, but also about who else will be returning as the season progresses.
Firstly, Castiel will be appearing in five of the 11 episodes that have been shot so far. Other than episode 6.03 "The Other Man", Cas' appearance in episode 6.06 "You Can't Handle the Truth" was very brief, so expect to see him in at least three of the next five episodes (likely in every other episode). He also revealed that Castiel would factor more heavily into the second half of this season (thank God!).
We also know that Crowley, played by Mark Sheppard, will be appearing again in episode 6.08 – which will feature another skinwalker. When Laura asked whether we should expect to see a showdown between Cas (the new champion of Heaven) and Crowley (the self-made "King of Hell"), Misha said we should definitely expect to see that. The only question is: who will win?
In addition to the return of Crowley, Supernatural fans should also expect to see the return of the angel Balthazar (played by the charming Sebastian Roche). You'll recall that Balthazar had gone rogue after the chain of command disappeared in Heaven and had been "acquiring" many of Heaven's most powerful weapons. His appearance in episode 6.03 and his interaction with Castiel constituted some great scenes, so I can't wait to see him again.
Supernatural has also been known for "breaking the fourth" wall and making nods to its own fandom or making fun of itself – such as in the episode "The Monster at the End of This Book" or in "The Real Ghostbusters". Misha reveals that Ben Edlund has come up with an idea for an episode that will have Supernatural "doing a tripple gainer over the shark". He says that this will be an entirely new experience in fourth-wall breaking on a television show.
Finally, expect Castiel to finally, finally get some action…with a woman (or maybe an female angel). Dean's last attempt to get Castiel deflowered (no, slash fans, not like that), ended with Castiel scaring away the brothel girl, but it looks like he may be more successful this time around. And not a moment too soon, because it must be tough being a 10,000 year old virgin. Check out Laura's article for a few Misha videos.
It looks like Castiel, and Supernatural, are in for some big things as the season progresses. Don't forget to tune in to an all new episode tonight – featuring Cas – and check back later for our review.
You can view sneak peeks (here and here), a trailer and promo photos for tonight's new episode ("Family Matters").
clarissa @ tvovermind.com
twitter.com/clarissa373
twitter.com/tvovermind