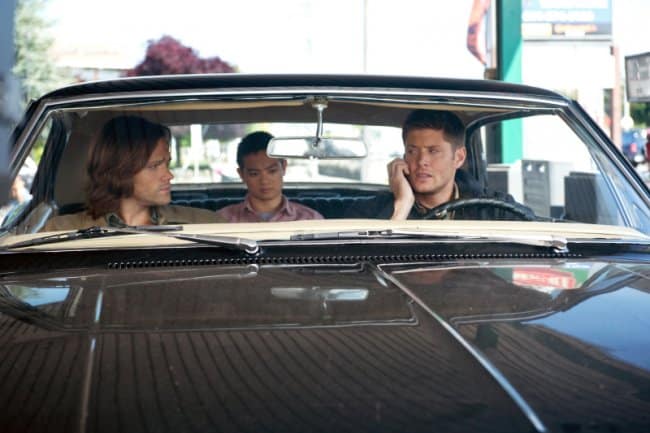 The prophet Kevin isn't going anywhere on Supernatural this coming season.  In fact, according to the preview for season 8, he's rather instrumental to the storyline.  When the Winchesters are reunited after a  year apart, they decide to track down Kevin, who tells them about the existence of another tablet…one that has the potential to close the Gates to Hell forever.  It's a race to the finish against Crowley and his demons to get their hands on this tablet.
In the October 10 episode, titled "What's Up Tiger Mommy", Kevin's mother gets in on the hunting action.  According to the official CW synopsis: "MRS. TRAN JOINS SAM AND DEAN ON THE ROAD — Kevin (guest star Osric Chau) talks Sam (Jared Padalecki) and Dean (Jensen Ackles) into checking in on his mother (guest star Lauren Tom). When they arrive, they see that Crowley (guest star Mark Sheppard) has surrounded her with demons so they rescue her and take her along on their quest to find the tablet. However, they soon discover Kevin wasn't kidding when he said his mother was a strong-willed woman after she tries to take on Crowley. John Showalter directed the episode written by Andrew Dabb & Daniel Loflin."
Don't miss the season premiere of Supernatural on it's new night: Wednesday, October 3 at 9:00 p.m. ET/PT on The CW.
Keep an eye on our Supernatural page for spoilers, previews, photos and recaps for the show.