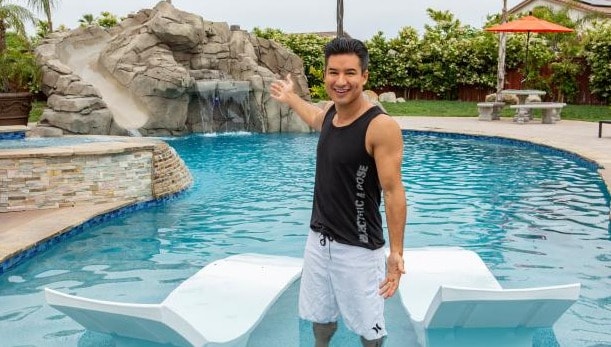 Back in the days, building a pool meant digging some earth, filling it with cement, finishing the surface, and filling it all with water. These days, pool designs have become more complex and interesting. Today, it isn't unusual to find multilevel pools or even lazy rivers in someone's backyard. HGTV's latest show, Supersize My Pool, has arrived at the perfect time. It's summer, and it's excruciatingly hot outside. There's no better way to spend the summer days than to dive into the largest pool of perfect temperature water. This new show from HGTV is not your average home improvement show, and here are 10 things you need to know before you start watching Supersize My Pool.
1. The Host
What better way to attract viewers than to have Mario Lopez host a show? That's right. Supersize My Pool was able to get one of TV's favorite hosts, Mario Lopez. Lopez has been around since the Saved by the Bell days, and we'll never get tired of saying that he still looks the same as he did then. The 45-year old actor is just one reason why you should watch the show.
2. The Premise
For every single episode, Lopez will choose a lucky homeowner to be the recipient of a backyard pool makeover. According to Lopez, he will almost act like "Willy Wonka, giving goods to those who deserve it. The goal is to take a decrepit-looking pool and turn it into a Vegas-style resort. It'll be over the top luxurious, and Lopez will be the perfect host to reveal the finish product to the homeowners. Supersize My Pool will have that ending shock factor that HGTV is famous for.
3. The Production
The show credits Robert Horowitz and Lewis Fenton as executive producers. The two have worked previously in a number of shows. Robert Horowitz is currently President of Juma Entertainment. Recently, Fenton has been named Executive Producer and Head of Production for Channel 8 Entertainment. Fenton is also Executive Vice President at Juma Entertainment, which is also responsible for shows such as Pool Kings, Most Valuable Performer, and Singing Bee. Supersize My Pool is also under the production company of Juma Entertainment.
4. The Premiere
Supersize My Pool premiered on the HGTV network on Saturday, July 6. It's one of a few other shows that HGTV is releasing this summer. It's a great marketing move for the network because there's no better time to release a pool show than during the summertime. Supersize My Pool will be different from other pool shows in that it has more of a renovation angle. In addition, the show will follow an unscripted documentary programming style much like other successful home improvement shows such as Flip or Flop and Property Brothers.
5. The First Episode
The first episode of Supersize My Pool features a family that found their dream home only to realize that the pool is just not in the most ideal condition. It's unclear at this point whether the show will always feature people that are only looking into properties they haven't lived in, but we do know that the first episode is a huge makeover. Mario Lopez and his team are called into action to turn the backyard into a mini water park.
6. The Back Story
For the show's host, signing onto the show was more of a personal decision. Lopez already has other projects going on, and he certainly didn't need another TV show under his belt. However, Lopez and his family experienced a disaster involving their home, where part of his property actual broke away and tumbled onto the road because of a mudslide. That experience made him appreciate the backyard even more, and helping other people achieve the backyard of their dreams has become somewhat of a mission for Lopez.
7. The Homeowners
Many people always wonder how homeowners get to be featured on HGTV shows. For Supersize My Pool, hopeful homeowners had to submit videos, and the production team had to pick through the submissions. There are a wide variety of issues presented in the videos, and many of the winners were just in bad situations. Some families were ripped off by a contractor, while some others got totally lost in the process of a do-it-yourself nightmare. Some other families just don't have the money to fix up their backyard. Over the course of the summer, we'll be seeing all the lucky winners and their renovated backyards.
8. The Renovations
Every single HGTV show has its own voice and style. For instance, Fixer and Upper feature designs that are more farmhouse in style. Property Brothers feature a lot more contemporary designs in their show. Supersize My Pool will feature luxury, resort-style backyards and pools. You can probably expect water park-style designs just like in the first episode. Regardless, the designs will all be grand and luxurious.
9. The Cost
It's amazing to have your backyard renovated and upgraded by professionals, but it's even more amazing when it's all done for free. Being picked for the show means that you get the benefit of a free renovation from Juma Entertainment and HGTV. All the renovations that will be featured on Supersize My Pool cost the homeowners absolutely zero dollars.
10. The Future
Mario Lopez has talked about how his backyard could use a lot more sprucing up after seeing all the renovations on the show. After the mudslides ravaged his property, Lopez and his family couldn't use the backyard for an entire year. There might be a possibility we could see Lopez renovate his own backyard on the show. We'd have to just tune in to see.