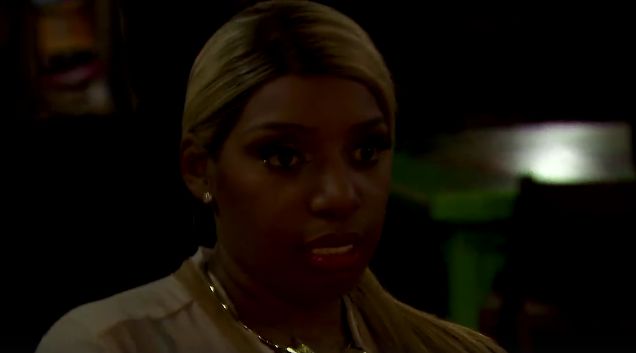 Plenty of drama coming to Real Housewives of Atlanta tonight. NeNe tried to tell everybody how Cynthia was and nobody wanted to believe her. Now, they see her for who and how she really is. A fake, flip flopper, who can't make up her mind on who Kenya is to her. Hopefully Nene, Cynthia, Porsha, Kim, and Phaedra all team up together to make Kenya get off the show. Do we think that's what's going to happen tonight? Probably not. However…
What does Cynthia mean Kenya showed her a side she didn't like? One thing we can say about Kenya is that love her or hate her, he's been consistent in her role on this show and the side she showed it wasn't her first time and Cynthia's first time seeing it. This is Cynthia's way of sugar-coating what she said and needs that to be her reason. She obviously dissed Kenya and Kim's husband really needs to simmer down. Or could this be the theory?
Don't' these lovely ladies see what is truly happening here? Nene's masterful and subtle wedging at its best! We have to say that we expected more from Cynthia. Something along the lines of "Let's put titles (BFF) aside…. The reality is that Kenya and I have evolved and come significantly closer as friends…. Etc. etc. etc" But no, instead she opted for relinquishing her strong individuality to appease Mrs. Leakes,and in the process appearing deviant
Yes, Cynthia is a flip flopper, but she has a valid reason for flip flopping this time. Cynthia showed up for Kenya's fake show and Kenya didn't even call to say she could/wouldn't be available for Cynthia's real commercial. Kenya could've easily emailed Cynthia her ideas but she didn't even do that. Real friends show up. It's getting real in here.
Check out the previews below!
Bestie is a… loose definition of Cynthia and Kenya's relationship. Watch ALL THE TEA spill on a super sized RHOA TONIGHT @ 8/7c.

Posted by Real Housewives of Atlanta on Sunday, January 31, 2016
OF COURSE we need a super sized episode for all of this super sized DRAMA. Don't miss an all-new #RHOA TOMORROW @ 8/7c.

Posted by Real Housewives of Atlanta on Saturday, January 30, 2016
Real Housewives of Atlanta airs 8pm on Sundays on Bravo