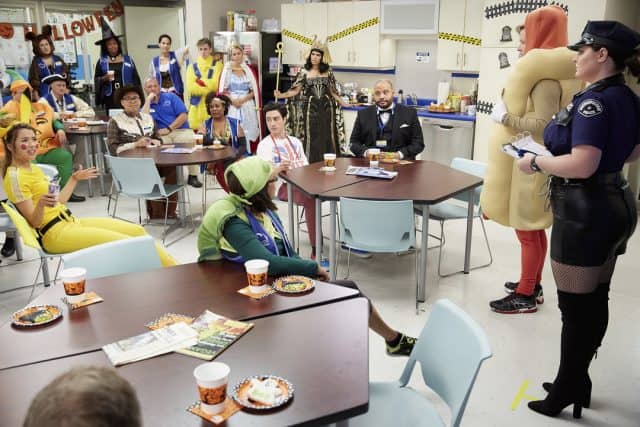 When I was in retail, I was never allowed to wear a Halloween costume to work. I have a feeling it's directly related to what happened on this week's Superstore. Costumes will cause unusual amounts of attraction, mischief, and fruit theft, and that's why I was never allowed to dress up for work. Ironically, until I got an "adult" job. It was still really fun to watch on TV, though!
This week on Superstore: Dina breaks down and wears a costume, which causes unusual amounts of attention from men, particularly Garrett. Jonah and Cheyenne bond by gossiping about everyone in the store. Dina searches the staff for a fruit thief. Glenn is upset by how nice the Assistant Manager is at the other store. Jeff, the district manager, returns to see Mateo. Amy is disappointed by her oldest child's Halloween plans.
Man, Superstore has been a lot of fun lately. It's always had good writing, and a good physical presence, but Season 2 has absolutely killed it in both of those areas. Talking is funny. Not talking is funny. It's the whole package. Halloween lent special credence to the physical presence in the show, and man was it hilarious. Glenn trying to sit down in the hot-dog costume. The grim reaper. The Cloud 9 spokesperson with blood around his mouth. All of it was hilarious, and made for really great physical comedy. Retail is a physical job, so it's essential that Superstore hit its mark in that way.
The only physical bit that wasn't my favorite in the universe was the over-emphasis on Dina's boobs. I mean, it was funny, and Lauren Ash KILLED it. I can't imagine how she kept a straight face during all that. Don't get me wrong, boobs ARE funny, but they beat into the ground just a little bit. Sometimes, less is more. The best payoff involving Dina's boobs was her interrogation with Garrett, when she emphasized "melons". *insert laughing emoji here*
I enjoy watching all these characters, but Jonah's crush on Amy being pointed out nonchalantly by Cheyenne was a real highlight. It's fundamentally changed the nature of their relationship. America Fererra and Ben Feldman are very much the heart and soul of the show, and the chemistry is obvious, but the relationship between these two realistic characters is so much fun to watch evolve.
Here are a few other extraneous thoughts I had during the episode:
Glenn's obsession with telling everyone he was a hot dog was the funniest thing.
"SHUT UP, SANDRA!"
"Some people think you have a crush on Amy. And some people think you're a sea org."
I was sad right along with Jonah that no one got his "Brexit" costume. I did.
I'm very much a fan of Glenn's obsession with "Bobby and Kelly", the other store's management.
What happens now that Cheyenne knows about Mateo and Jeff? I'm very interested in that plot, too.
Ten bucks says that one of the next few episodes opens on Dina and Garrett waking up together. Let's revisit this theory soon.
All in all, this was a really fun Halloween episode. The physical comedy was excellent, and enhanced by great costumes on a very visual, physical holiday. Superstore has been on a roll lately, and it seems like it'll be hard to stop.
What did you guys think? Did you enjoy the episode? Let us know in the comments!
Superstore airs Thursdays at 8/7c on NBC
Superstore Season 2 Episode 7 Review: "Halloween Theft"
Summary
Dina attempts to protect the store from vandals, and the rest of the gang tries to combat her insanity, on this week's strong Superstore.