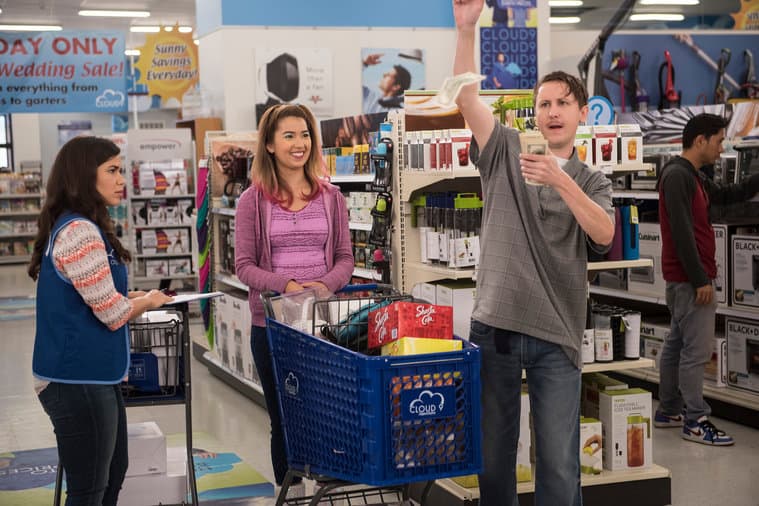 One of the best, most underrated comedies of the 2015-16 television season has been NBC's Superstore.  Not only is it a fast-paced and witty workplace comedy, but it's refreshing to see a show take place in a retail environment. On top of making me laugh hysterically, its retail setting creates empathy for the characters and subsequently, actual retail workers. As a former K-Mart employee myself, it makes me laugh harder and feel more.
This week on Superstore: Cheyenne and Bo come to the wedding day sale and reveal their plans to throw a huge party for their wedding. Amy advises them on how much it costs to raise a baby, and then Bo runs away. Amy and Dina leave to track down Bo, and bond a little in the process. Jonah and Garrett help Cheyenne pick out things for her wedding, but don't see eye to eye on much. Meanwhile, Glenn encounters a gay couple at the wedding sale, and enlists Mateo to make the wedding section more "gay-friendly".
If you've been watching this show and reading the synopsis didn't make you laugh a little, I'm not sure what to tell you. This was the funniest episode of Superstore to date. They mixed and matched the characters a little, and put all of them in taboo situations. Though at times the characters can feel a little caricature-esque, I can name people from my retail days in all of their different situations. I've admitted my bias as a former retail employee, but that being said, lots of truth rings throughout this show, and "Wedding Day Sale" in particular.
Let's talk about Bo for a minute. To someone who has never lived in a town populated with 30,000 or less, Bo may seem like a caricature to you. To me, Bo is half the guys I went to high school with. The way he talks, dresses, acts, and even his goofy little mustache are the embodiment of small-town America. It's honestly pretty incredible how well Superstore has captured this stuff. Bo might be my favorite character, but makes me cringe a little extra. I was extremely pleased to see his character, however idiotic, attempting to do the right thing. Taking this even further, to mention Glenn and Mateo makes it feel like Superstore is working hard to tear down stereotypes from every angle, and I applaud it.
My favorite part of this episode was easily Jonah and Garrett trying to help Cheyenne plan her wedding. Jonah and Garrett are arguably the show's strongest characters, but until this point they've not had much shared screen time. Ben Feldman and Colton Dunn are both experienced comedians and they absolutely killed every scene they had together. They've got a strong dynamic and they're tear-jerking hilarious. What more could you want?
As I always do with comedies, here are some of my favorite quotes/moments from the episode:
"Well THAT was a good use of the last five hours."'- Garrett
"What?! Two 17 year olds are making a bad decision?"- Garrett again!
"You had to go freak the little dummy out?"- Garrett trifecta!
"Guuurl. I learned that from Wendy Williams."- Guess who? See above
"We're going to take those guys minds, and blow them!"- Poor, poor Glenn
"Strawberry blonde should not be allowed to grow facial hair. That should be in our constitution."- Amy
"Your name is Bo Derek?"- Amy
This is the kind of show that has good lines around every corner, and if you're not careful you'll miss them. It has a strong cast, is doing well in the ratings, and could not feel more true to life and funny. I will be continuing to review this show on a regular basis, so please everyone. Let's discuss, and laugh along together!
What did you guys think? Did you enjoy the episode? Let us know in the comments!
Superstore airs Mondays at 8/7c on NBC
Superstore Season 1 Episode 8 Review: "Wedding Day Sale"
Summary
Amy tries to help Cheyenne and Bo with their finances in a hilarious episode of Superstore.