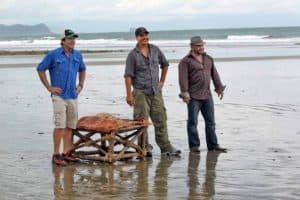 Survivor fans rejoice! CBS has just renewed our favorite reality show for its 23rd and 24th seasons to air in the Fall of 2011 and Spring of 2012, respectively. This is, of course, very welcome news, but perhaps even more importantly, three-time Emmy Award-winning host, Jeff Probst, will be back for those seasons as well.
Since Survivor has been around for so long, every time the renewal process comes around, there is speculation that Probst won't return as he has already dedicated eleven years to the show and has began exploring other endeavors (check out jeffprobst.com for details). Further, Probst has been linked to filling Regis Philbin's chair next to Kelly Ripa on Live! with Regis and Kelly once the Reege retires this fall. Now, as Survivor films two seasons over approximately 90-100 days during the summer, it may be hard for him to pull double duty, but with the use of guest hosts and some remote location filming, he could still do both. If he does, that's great (he is actually pretty fantastic with Kelly when he subsfor Regis), but regardless, Probst is coming back to Survivor.
After the tepid response (OK, downright hatred) for last season's Survivor: Guatemala, there was some speculation that the show may have reached its end. With Survivor: Redemption Island, however, the show has been resurgent, showing us all how great the series can be when it has the right mix of contestants, challenges, strategy and, of course, hosting. With what is being billed as an incredible episode of on tonight (Russell vs. Matt on Redemption Island! Phillip going bonkers! Again!!), this news couldn't have been announced at a better time. Survivor is back!
Are you excited for this announcement? Are you happy to have Jeff Probst back as well? Could you even imagine the show with him? Please leave your comments below, and be sure to check out my recap of tonight's episode tomorrow morning right here at TVOvermind.
Follow: twitter.com/tvovermind
Follow: twitter.com/MikeNJD
Email: [email protected]