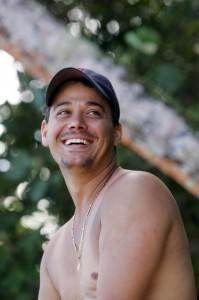 Yesterday, I took a look at the new cast for Survivor: Redemption Island, and gave some first indications as to who I favored to advance far in the game. I didn't give descriptions of Boston Rob and Russell because, well, every Survivor fan already knows who they are, but also, we do not know which tribes they will be on (I will give them Odds to Win in my column next week). Further, we didn't have any interview videos with them by which to judge their mindsets heading into the game. That has changed.
Survivor connoisseur Dalton Ross from Entertainment Weekly was in Nicaragua as the Redemption Island season kicked off, and was able to sit down with the two returning players for some pre-game interviews. These interviews will be shown in four parts, with the first part debuting today. The title of this article refers to the Rob and Russell's reactions to seeing each other for the first time. Evidently, they were each brought to Nicaragua without knowing they would be facing each other. EW was there when they learned of their competition.
Take a look at the video. Do you believe anything these two say in regards to the other? Do you really think they will try to form an alliance post-Merge? Can they trust each other to be honest in the game? Please leave your comments below. Part 2 of Ross' interviews will be out tomorrow, with Parts 3 & 4 debuting next week in the run-up to Wednesday, February 16th — the premiere of Survivor: Redemption Island! Be sure to check in with TVOvermind regularly for my extensive Survivor coverage, including my initial Odds to Win article before the premiere.
Follow: twitter.com/tvovermind
Follow: twitter.com/MikeNJD
Email: [email protected]