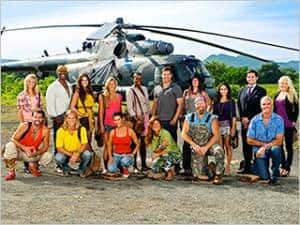 Hello Survivor fans! The cast for the new season, Survivor: Redemption Island, has been revealed. Well, I should say, sixteen of the eighteen players have been revealed. In addition to a couple of former NFL football players and a former Miss America contestant, two previous Survivor players will return to the game for another shot at the title of "Sole Survivor." This is not the first time Survivor has brought back former players in a non-All Star season. Bobby Jon and Stephenie form Survivor: Palau (they of the "our tribe never won an Immunity Challenge" season), were brought in to lead the tribes in Survivor: Guatemala. Similarly, two former players will be back to lead the new tribes.
Now, speculation has been rampant that those two players are Boston Rob and Russel Hantz, who had feuded with each other as tribemates in Survivor: Heroes vs. Villains. As the currently revealed cast of sixteen has nine women and seven men, it is safe to bet the two ringers will be men as well. Both Rob and Russell were featured at the Survivor: Nicaragua Reunion Show, so it won't surprise me if they are indeed the old timers getting one more shot at Survivor glory. Whether or not it is them will be revealed later this week.
Take a look at the currently announced cast, and some player videos shot by Dalton Ross of Entertainment Weekly, who was on-site when these players arrived in Nicaragua. Anyone stand out to you? I'll have an analysis later this week of these newbies and what appear to be their strengths and weaknesses. Once the former players are revealed, I'll bring you my initial Odds to Win column, and hopefully, I'll be able to nail the Top Two like I did last season!
What do you think about two former players coming back/ Would Rob and Russell be your choices? Anyone else you would like to see? Don't forget the real twist for this season: Redemption Island. When a player is voted out of Tribal Council, he or she goes to Redemption Island to battle the next eliminated player for a shot to reenter the game. How do you think this will effect the game? Does this twist excite you? Please leave your questions, comments and theories below.
Survivor: Redemption Island premieres Wednesday, February 16th at 8pm EST/PST on CBS.
Follow: twitter.com/tvovermind
Follow: twitter.com/MikeNJD
Email: [email protected]