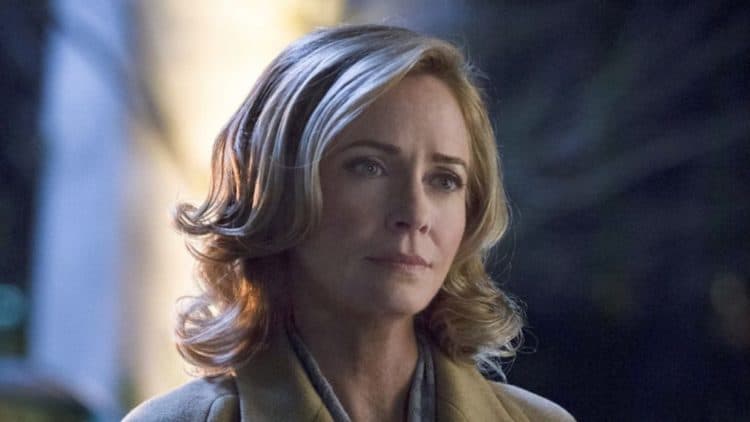 Ardent fans of "Arrow" do not have to be introduced to Moira Queen, the matriarch of the Queen family, who unfortunately had to be cut off through death in the hands of Slade. Susanna Thompson plays the character; she helped make the series a hit since we all know that seeing a familiar face pushes us to watch any productions. Besides "Arrow," Susanna has been cast in various other shows, plays, and films since developing her passion in acting. Here are a few details of how Susanna ended up in the industry as well as her personal life.
1. Her first television appearance
On March 1, 1992, "A Woman Scorned: the Betty Broderick Story" premiered on CBS. The film was about Betty, a woman whose husband leaves her for another woman, and Betty does not take it well. Therefore she torments him with verbal abuse and immature vandalism. In the film, Susanna plays the receptionist, and it helped catapult her to fame. Hence in 1995, she was given the iconic role of kissing a woman in "Star Trek: Deep Space Nine," and it ended up being top of her most controversial appearances on television.
2. She was not a fan of "Game of Thrones."
"Game of Thrones" quickly became a highly rated television show, and when viewers learned it was coming to an end, the season finale gained the highest viewership of any HBO show in history. Still, while many would not miss any episode of the series, Susanna did not bother watching it. According to Access Online, David Nutter was surprised that Susanna did not watch the show, yet he knew it would interest her since he knows her preferences. However, Susanna did not like the violence.
3. Her last scenes in "Arrow" were emotional for the rest of the cast
Susanna did not get emotional upon learning that her character was being eliminated; although it took a couple of days for the news to sink in, she was not teary over it. Her fellow cast members were, however, not emotionally strong. They have come to be a family, and Anna Hopkins had been happy that she would be getting to act alongside her favorite actress only to learn Susanna would not be acting anymore. Willa, who had been playing Susanna's daughter, burst into tears. The entire crew was saddened; Susanna's hotel room was filled with flowers, and they even took her out to dinner.
4. She does not have any children
Having children is a life-changing experience that most [people prefer to postpone or completely do away with for personal reasons. Actresses like Sarah Paulson had her eggs frozen because she felt she was not ready to have children but feared she would want them later. Susanna, on the other hand, has been married for nearly four decades, and she still does not have any children, a decision she does not regret.
5. She prefers keeping her personal life under the radar
It has been said that in a world where people do not know the half of it, it is not your job to make them aware because while everyone is exposed, it is good to remain a mystery. Susanna has taken this bit of advice to heart and likes to be mysterious. Therefore when rumors circulate about her marriage being in the rocks, she does not give it any thought. After all, she is the one with all the details and owes no one any explanation.
6. She feels her character "Moira" was cut off too early
Of all the television shows she has been cast in, Susanna's character as Moira in "Arrow" gave her a bit of an edge in the entertainment industry, considering that all interviews she has held relate to that particular role. When she talked to Hollywood Reporter, Susanna felt the there was a lot that Moira had to do. In her opinion, the producers probably thought there is a different story to that of Moira.
7. Her career achievements
The essence of joining any career is to have an impact and create a legacy while at it. However, some go through life without anyone noticing their efforts nor appreciating them enough to reward them. Susanna has been in the film industry for almost thirty years, appearing in more than 50 television shows and movies. For such a long-spanning career, you would expect her to be bagging awards with every production, but so far, she has only managed to win an OFTA Television Award for her performance in "Once and Again." She also was nominated by ACCA alongside other actors for the best ensemble cast of "Ghosts of Mississippi."
8. She was drawn to acting after attending a poetry class
Creativity is not something that can be taught; it is always inside us and only awaits the right moment for it to be ignited. Susanna never knew that she loved theatre, but the moment she attended a poetry class, her mind was settled on becoming an actress. In fifth grade, her teacher introduced her to Community Theater, and by the time Susanna joined high school, she was determined to study acting. She did so well that she earned a scholarship to continue her drama studies in San Diego State University.
9. Her net worth
Susanna is an accomplished actress, and her hard work has paid off, considering that she now boasts of a $3 million net worth. The money is mainly from her acting career, and since she is in the main cast, she makes an impressive amount. For instance, when "Arrow" premiered, the lead actor was making $40,000, and now that it is in its 8th season, he is making $125,000. With Susanna being a regular cast, the amount she was making per episode has to be lucrative too. Besides, her other television shows and movies have boosted her income.
10. She met her husband in 1981
Most actors marry people in the entertainment industry since they usually meet in the line of work. However, love transcends all and will cut across industries to bring two people destined to be together. Therefore when Susanna was making her start in Hollywood, she met with her husband, Martin Kutz, in 1981 while he was pursuing his professional life. According to Superhub, Martin is a professor based in San Diego State University, and despite the different professions, they have a happy marriage.