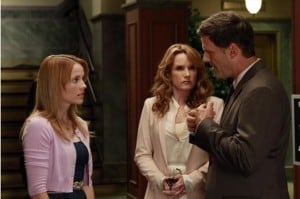 Two original ABC Family dramas – Switched at Birth and Bunheads – will be returning with all new episodes in early January and will be paired together on Monday nights. Â There's a lot of drama in store for both of these shows. Â Here's what to expect for the new seasons:
Switched at Birth: "After the verdict against the hospital makes Angelo a millionaire, he stuns the families with lavish gifts. But suspicions about Angelo's behavior continue when a pregnant woman shows up claiming that he is the father. John and Kathryn consider a run for public office. Meanwhile, Bay must face the Student Honor Board when she is accused of cheating, and Daphne's distraction with Chef Jeff gets her in trouble. ABC Family will air a special Switched at Birth marathon on Monday, January 7th, from 11:00AM — 8:00PM ET/PT, leading up to the Season Two premiere."
Bunheads: "It's been several months since the Nutcracker fiasco, where Michelle accidentally maced the young performers of Paradise Dance Academy. Now she's crashing on her friend's couch and working as a dancer for a small-time magician in Henderson, NV. Meanwhile in Paradise, the dance studio is closed down, leaving the students to keep busy on their own. Ginny has taken over her mother's real estate business; Melanie has been caring for her grandpa, and Boo is pulling her hair out taking care of her little brother while her pregnant mother is on bed rest. After a summer at Joffrey, Sasha returns but refuses to head back home, instead hiding out with friends."
Don't miss new episodes of Switched at Birth and Bunheads on January 7 beginning at 8:00 p.m. ET/PT on ABC Family.  Watch a preview below.
http://youtu.be/MAehUCLllkc