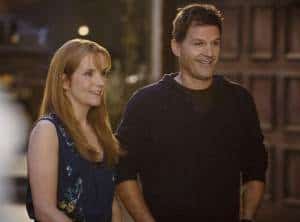 A new episode of the hit ABC Family show, Switched at Birth, will be airing tonight, and if you liked last week's pilot, I think you'll like this episode even more. Now that the Vasquez family has moved into the Kennish guest house, the possibilities for problems – and also family bonding – is endless.
Kathryn and Regina start clashing when Kathryn questions Regina's parenting style. Poor Daphne is left to try and broker peace between her two sets of parents, but it's hard on her when the Kennish family can barely communicate with her and she feels like a bit of an outsider. But all of this conflict eventually leads to a very interesting question: why won't Regina join the Kennish's lawsuit against the hospital for the baby mix-up? Kathryn immediately suspects that she's hiding something and it seems like she won't rest until she discovers the truth.
Bay and Daphne, meanwhile, both try to spend more time with their biological parents, but they're also branching out in terms of their potential dating pool. Bay grows closer to Ty, the boy from Daphne's old neighborhood. Daphne decides to go on a date with Liam, unaware that he used to date Bay. But Daphne realizes that it's very difficult for her to date a hearing person who doesn't understand what it's like to be deaf.
Below are three sneak peeks for tonight's all new episode of Switched at Birth, on ABC Family.
clarissa @ tvovermind.com
twitter.com/clarissa373
twitter.com/tvovermind