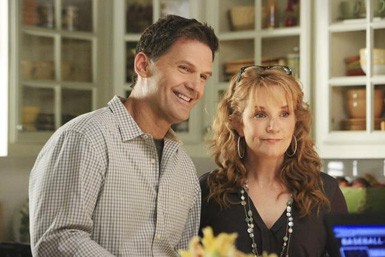 This week's Switched at Birth gave fans a glimpse into how life would have been different if Regina had told the truth about the switch when the girls were three years old. In this version of reality, the Kennishes ended up with custody of both girls because of Regina's alcohol addiction. John indulged Daphne to the point where she grew up to be a spoiled brat, while Bay was a quiet, straight-A student. John and Kathryn's marriage was on the rocks, with Kathryn having an affair with Chip.
After meeting Emmett, Bay decided to look into her birth mother, but she and Daphne sadly discovered that Regina had died before they ever got a chance to meet her. In the end, John had a heart attack, but Regina's absence from his life resulted in his death. In the real world, John woke up in the hospital surrounded by both his wife and Regina.
In next week's episode: "Daphne is torn between her obligation to her family and her desire to spend time with Jace. John must face the reality of his situation. Angelo offers to help Regina bring in business. Meanwhile, Bay is intimidated when she meets a cool, confident Army medic (guest star Allison Scagliotti, "Warehouse 13") who served with Ty in Afghanistan."
Watch a preview below for the July 15 episode of Switched at Birth on ABC Family.