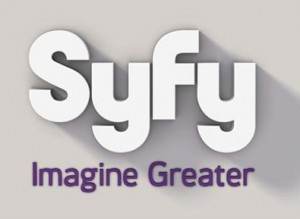 The Syfy channel will be bringing several show panels to this year's Comic-Con, as well as setting up its usual Café Diem in the Hard Rock Hotel across from the convention center.
Friday, July 22
3:00pm – 4:00pm, Eureka (Ballroom 20)
Small town. Big panel. Syfy's smash hit Eureka is back at Comic-Con. Colin Ferguson (Jack Carter), Salli Richardson-Whitfield (Allison Blake), Neil Grayston (Douglas Fargo) and guest star Felicia Day (Dr. Holly Martin) join executive producers Jaime Paglia and Bruce Miller for a chat about the big secrets of America's smartest little town. Moderated by guest star Wil Wheaton (Dr. Isaac Parrish; Wesley Crusher, Star Trek: Next Generation).
4:15pm – 5:15pm, Warehouse 13 (Ballroom 20)
For one day only, America's top-secret treasure trove is moving from the middle of nowhere to the middle of Comic-Con. Join stars Eddie McClintock (Pete Lattimer), Joanne Kelly (Myka Bering), Saul Rubinek (Artie Nielsen), and Allison Scagliotti (Claudia Donovan) along with executive producer Jack Kenny as they take you inside Syfy's blockbuster hit series, Warehouse 13. Moderated by Neil Grayston (Douglas Fargo, Eureka).
6:00pm – 7:00pm, Alphas (Room 6A)
Syfy's newest original series Alphas has taken the summer by storm — and it's just the beginning. Join cast members (TBA), co-creator and executive producer Zak Penn (X-Men: The Last Stand; The Avengers) and executive producer Ira Steven Behr (Star Trek: The Next Generation; The 4400) as they reveal why impossible is what Alphas do best. Alphas premieres Monday, July 11 at 10PM ET /PT and stars David Strathairn, Malik Yoba, Warren Christie, Azita Ghanizada, Ryan Cartwright and Laura Mennell. Moderated by Geoff Boucher ('Hero Complex,'The LA Times).
9:00pm — 11:00pm, Syfy Screening: Eureka, Haven & The Mercury Men (Room 6A)
Imagine Greater with fellow fans during an advanced preview screening of the next all-new episode of Eureka, followed by a special presentation of an all-new Haven. And be sure to stick around for the exclusive premiere of the all-new digital series, The Mercury Men.
Saturday, July 23
11:00am – 12:00pm, Sanctuary (Hilton Bayfront, Indigo Room)
Thrilling action, revolutionary green screen sets and more bumps in the night than you can count. Catch Amanda Tapping (Helen Magnus), Robin Dunne (Will Zimmerman), and moderator Josh Gates (Destination Truth) as they take you inside Syfy's hit series Sanctuary.
12:00pm – 1:00pm, Being Human (Hilton Bayfront, Indigo Room)
Find out why Being Human Is Harder Than It Looks — especially when you're a vampire, werewolf or ghost. Don't miss Sam Witwer (Aidan), Meaghan Rath (Sally), and Sam Huntington (Josh) as they join executive producers Jeremy Carver and Anna Fricke on Syfy's first Being Human panel, moderated by award-winning writer Nadira Hira (expert on Generation Y; contributor, Fortune magazine).
clarissa @ tvovermind.com
twitter.com/clarissa373
twitter.com/tvovermind