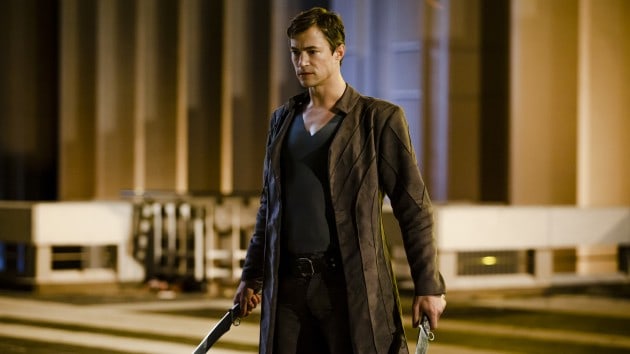 Good news for fans of Syfy's series Dominion and Defiance. Both shows have been renewed by the network for season two and season three, respectively, and each of their new seasons will consist of 13 episodes and premiere in 2015.
Kevin Murphy (Caprica) will remain as Defiance's executive producer and showrunner, and Vaun Wilmott (Sons of Anarchy) will keep filling those same positions for Dominion. Both series have averaged the exact same amount viewers, 2.7 million, during their Thursday night time slots, with 1.2 million of them being in the key 18-49 demo. Syfy has also stated that Dominion was the most tweeted about series on Thursday nights this summer.
Dominion is set in the post-apocalyptic world of 25 A.E. and tells the story of an an army of lower angels, assembled by the archangel Gabriel, has waged a war of possession against mankind. The archangel Michael, turning against his own kind, has chosen to side with humanity against Gabriel. The series stars Christopher Egan, Tom Wisdom , Roxanne McKee, Alan Dale, Anthony Stewart Head and Luke Allen-Gale.
Meanwhile, Defiance is set in the near future, when seven different alien species known collectively as Votans come to Earth seeking a new home after their star system was destroyed. It stars Grant Bowler, Stephanie Leonidas, Julie Benz, Graham Greene, Tony Curran, Jaime Murray, and Dewshane Williams.
In addition to renewing these two series, Syfy has also greenlit numerous other new projects, including Ascension, The Expanse, 12 Monkeys, Killjoys, The Magicians (based on Lev Grossman's book trilogy) and Childhood's End.
Photo via Syfy