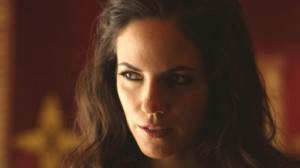 Lost Girl has officially been renewed for a third season stateside, according to The Huffington Post. Having already been picked up for a 13 episode third season in Canada in December, the show will likely be premiering in the fall there before its U.S. premiere in January 2013.
The third season of the show is said to be introducing a thrill-seeking fae named Tamsin, with Lost Girl creator Michelle Lovretta promising more sex, more drama, big choices finally made, and evil appearing in places that nobody might expect it to. There's a slight possibility that the episode order could be extended by Showcase, the channel it airs on in Canada, considering how strong the ratings have been north of the border. Until then, it's 13 episodes of fae business with Bo, Kenzie, Trick, Hale, Dyson, and Lauren.
It's not the first successful acquisition for Syfy, as British import Merlin has proven to be quite successful in its Friday night timeslot. Lost Girl is currently seven episodes into its 22 episode second season, which completed airing in Canada this past April. The finale will be airing in September.
Lost Girl airs Mondays at 10:00 on Syfy. Beginning July 20th, it'll shift to Fridays at 10:00 following Smackdown.
If you've already seen the entirety of Lost Girl's second season, how do you think it set up a third season? If you're following along on Syfy, how are you enjoying season two? Should Bo end up with Lauren, Dyson, or by herself?