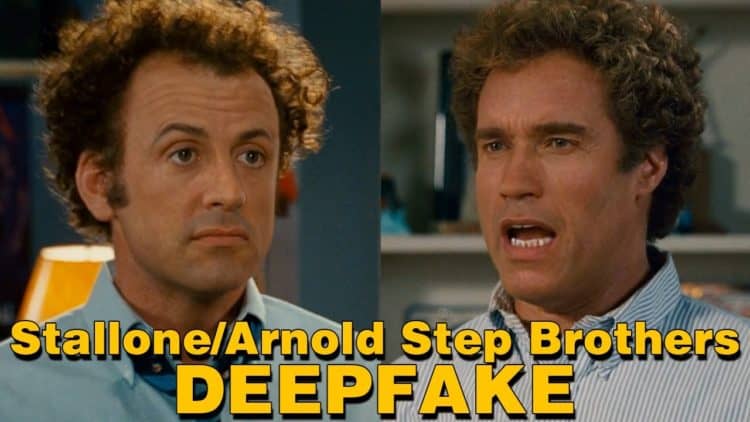 Just imagine if Deepfake had been able to bring the voices of these two men to bear when making this video. Now THAT would have been perfect, especially given that Stallone and Schwarzenegger were actual rivals at one point when it came to the movie scene. But the face swap is just as useful since it's a lot of fun to look at and draw a definite parallel between this and the actual feud that went on so many years ago. People have never really been shy when it comes to picking their favorite actin heroes, but usually when it comes down to these two a lot of folks don't really want to pick since they're both great and it feels as though it would be a disservice to either man to leave them out. After all, Stallone gave us Rocky and Rambo, while Schwarzenegger gave us The Terminator, Predator, Conan, and several other notable performances. Trying to pick between these two isn't exactly easy, so stating that they're both just as good and that they're both worth following is a much more enjoyable road to traverse. But it's true that many people would still attempt to state that one is better than the other, even if the reasoning isn't all that sound.
There's no denying that these two have been at the top of the list for action movies over the years, but now both men are a great deal older and aren't quite as effective as they used to be, despite what the latest Rambo and Terminator movies would tell us. There's nothing saying that they're not talented, or that their movies are horrible, but there is plenty to say that they might need to hang certain characters up at this point and focus on the spoils of largely successful careers. Both of them have created blockbusters and busts alike, and both of them have experienced great financial success in their lives. But at this point it does feel as though they should be slowing down just a bit and possibly finding movies that will continue to stretch their acting muscles. Creed 2 was a nice sendoff if it's bound to be the last of the Rocky movies, but Terminator: Dark Fate was a trainwreck that a lot of people couldn't help but cringe at since Cameron went back to a well that had dried up a while ago.
But when it comes to the feud between these two men it's safe to say that it lasted for a while and ended at some point when it became clear that the fans enjoyed both of them and didn't want to choose between them all the time. The fact that they've been in the same movie a few times now is enough to think that the feud was laid to rest without too much fanfare since there's no denying that seeing them on the same screen was kind of nice. Picking between them was usually kind of a bother since people loved Rambo and Rocky and they loved The Terminator as well. Trying to figure out who made the better action movie between them was simply too difficult since their movies were typically different enough that they didn't need to be compared to each other. When you look at their greatest triumphs it's easy to figure out that they're nothing like each other, so liking them both was simple. It's pretty thankful that they never really leaned into the feud to make it any worse since Arnold did manage to lay the movie Stop, or My Mom Will Shoot! on Sly's shoulders somehow. These days the guys are actually pretty good friends, but are definitely the type that won't pass up the chance to tease each other without mercy. It's definitely friendly banter at this point since professionally they've both been highly successful, but in the 80s it was noted that they didn't care for each other.
A big part of it was ego, and another part was that they were actively trying to outdo each other, to be the top dog when it came to action movies, a spot that Arnold had definitely cornered at one point, but Stallone was able to take every now and then. At this point it doesn't matter who's on top since both men are in their 70s and are starting to wear down a bit. Despite their insane physiques and level of physical health, they're both at the age where they need to take easy far more often, and where they can look back and enjoy the memories that have been created. They were definitely not the greatest of friends back in the day, but at this point it's nice to see that we can make light of it and get a good chuckle in the process.
Video credit to Brian Monarch