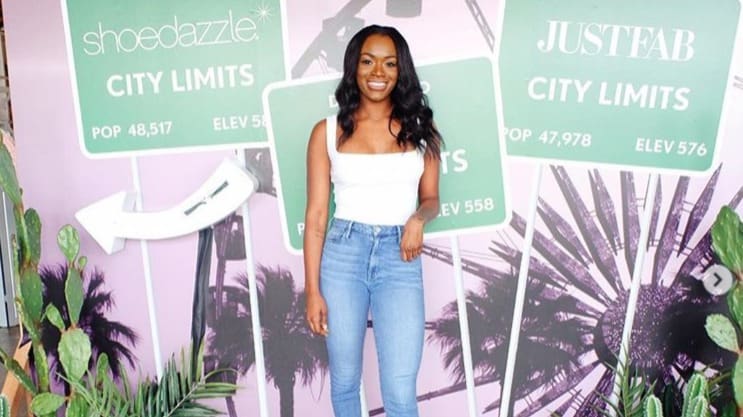 When we want something in life, we need to be very aggressive to find it. Many people end up losing hope along the way due to disappointments that come their way. Tahzjuan Hawkins is one who does not give up easily. She was a contestant in Bachelor in Paradise but did not win the heart of the bachelor. Matter of fact is she was eliminated in the first rose ceremony. Tahzjuan never loses the fighting spirit and was back hoping to find true love with John Paul Jones on "Bachelor in Paradise" season 6. Unfortunately, just like before, she will go home after her 1st rose ceremony according to a spoiler published on Distractify. Tahzjuan was brought up in Houston, and you can get to know more about her by checking these facts.
1. She loves reading
Tahzjuan Hawkins loves reading and spends her free time perusing through book pages. Moreover, since she is currently in school, she has to study a lot. The passion for reading assists her in the daily revisions that are part of her coursework, but Hawkins also reads novels to get a break from studying. According to Good Reads, she has ten books to read. With her being busy with her studies, Tahzjuan has to allocate time to read the novels as she finds them very interesting.
2. She loves dogs
As far as pets are concerned, dogs are Tahzjuan's favorite pet. She has two dogs that she spends time with when at home. Tahzjuan has trained her dogs because she finds it fun when they master certain communications. Therefore, she enjoys playing with them by issuing instructions and watching if they respond.
3. Her unique tattoo
Tattoos come in different shapes and writings, depending on the person's preference. Tahzjuan Hawkins loves tattoos too and has one that reads, "I love bad ideas." The term "Bad ideas" can be translated to mean different things to different people. As far as she has portrayed herself on reality television, her bad ideas have left her single because she is always making fun of her competitors. No man wants a drama queen in his life; life is too short to be dealing with stress.
4. She is a program specialist
Tahzjuan is currently a program specialist, a job that she has held on to since last month. Before then, she worked for Lyft, which is a rideshare app in Colorado. According to her LinkedIn profile, she worked there for one year and four months. She has also been working as a business development associate for the past year and four months. She is still capable of rising through the ranks in the workplace since she is currently doing further studies.
5. She is currently studying for her masters
Tahzjuan studied in Colorado. She started by studying for her degree and then joined Colorado University for her masters. She is pursuing a master's degree in business administration and is anticipating to graduate in 2020. She wrote in her Instagram that she was pursuing all her hopes and dreams in 2019. According to her Instagram post, Hawkins says that the master's program is challenging but worth it. She also wants to specialize in data analytics, which is in line with her current position in the workplace.
6. Family
Tahzjuan lives with her mother and brother, according to Heavy. They previously lived in Houston but later moved to Colorado. She loves going shopping with her mum and always updates it on her Twitter account. Hawkins enjoys spending time with her family when at home, and her mother has been consistently motivating her to keep pursuing her dreams.
7. She is a drama queen
In the promo of Bachelor in Paradise, Tahzjuan asks John Paul Jones on a date. Haley Ferguson, who is also interested in John Paul, does the same which upsets Hawkins. Instead of planning her next strategy to win the man's heart, Hawkins reveals her bad side by insulting Haley; calling her a name relating to a bird. Having seen the extent to which she can go to win, John Paul is turned off. All men are turned off by her behavior, and it is no wonder she ends up being kicked out in her first rose ceremony.
8. She acknowledges a racism-free society in the show
The show has experienced many cases of racism in the past. Some of the contestants get locked out of competitions because of their color. Tahzjuan is black while John Paul is white. According to Yahoo Lifestyle, Tahzjuan is a sign of a racism-free society. Many people did not expect her to be part of the contestants since the whites dominate the show. The fact that she is black does not stop Tahzjuan as she is set on getting herself a man.
9. She has a fear of frogs
We all have different phobia in life that come out of our perception of things. Some people may fear abstract things, while some may fear actual objects or creatures. Tahzjuan has a great fear of frogs, which stems from her belief that frogs are scary. She has it in her Instagram profiles that frogs are part of her enemies, and you will never catch her anywhere near the frogs.
10. Her best trip
Tahzjuan's loves adventure and has been to many places. When she is free, she sometimes takes time to explore new places and get new experiences. One of her adventures that has become the best trip so far was a bike trip to Croatia. The trip was enjoyable to her as she went with her family. What better way to have with your loved ones than to exercise together. Unlike traveling by bus, riding on the bike not only allowed her to exercise, but she also enjoyed the serene environment. By going at her own pace and stopping wherever she needed to take in the spectacular views.