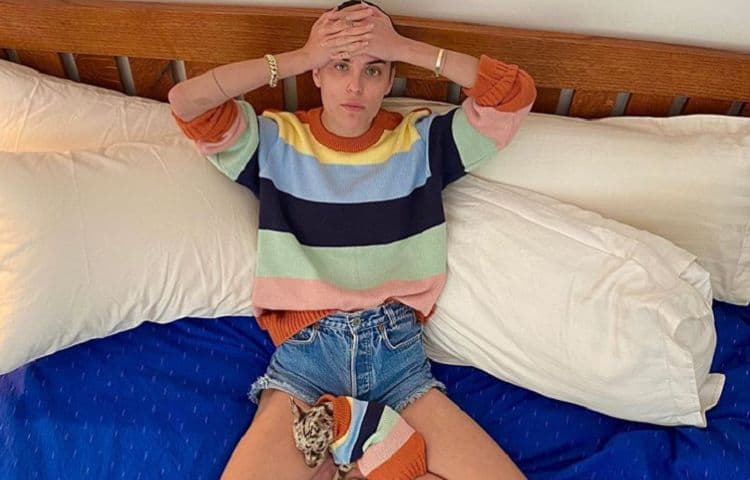 Let's face it, any child of a superstar coupling such as Bruce Willis and Demi Moore's was unlikely to live their life free from the media gaze. In the case of Tallulah Willis, that's been all too true. After intense media attention led to battles with body image, drink, and drugs, Tallulah has now turned her life around by learning to use the media attention for her own purposes, drawing on her public platform to promote her ideas on everything from Instagram's censorship policies to the role of celebrity in modern culture. To learn more about the star, keep reading.
1. She had an idyllic childhood
Her teenage years may have been troubled by press attention and substance abuse, but Tallulah's childhood was positively idyllic. The family spent the first few years of Tallulah's life on a ranch in Idaho, given the young Tallulah complete freedom to enjoy a carefree childhood. "I spent my first seven years running around in, like, 20 acres of trees and ponds, and we had this like river behind our house," she told Stylekikeu, giving a glimpse into the life she enjoyed before the media turned her teenage years into a battleground.
2. She's full of praise for her parents
She may be the product of divorce, but Tallulah has nothing but praise for Demi and Bruce's parenting style. As she shared with Elle, Tallulah feels her parents are "totally behind me. They support me 100% in whatever I do, which is such a gift." If forced, she would have just one tiny little criticism to make: "The only thing I'd say is they're a little protective," she's said.
3. She was diagnosed with body dysmorphia at 13
Tallulah has spoken openly in the past about how being the daughter of two actors famed for their good looks, along with the media attention she experienced from a young age (not all of which was positive), had a devasting effect on her self-image. "I'm diagnosed with body dysmorphia [because of] reading those stupid f–ing tabloids when I was like 13, feeling like I was just ugly, always," she shared in a video for Stylekikeu. "I believed the strangers more than the people who loved me, because why would the people who love me be honest?"
4. She spent 6 weeks in rehab
In 2014, Tallulah decided to tackle her issues by spending 6 weeks in rehab, getting help for a variety of problems including drug and alcohol addiction. According to the Daily Mail, Tallulah's hand was forced by parents Demi and Bruce, who issued her with an ultimatum after Tallulah's sister Scout discovered her snorting cocaine at The Roosevelt hotel. After the stars threatened to cut their daughter off financially unless she sought help, Tallulah checked into the celebrity treatment center The Meadows in Arizona.
5. She shaved her head in tribute to her mom
In 2014, Tallulah proved it wasn't just her mom Demi that could rock the shaved head look. Demi famously shaved her head in 1997 for the film G.I. Jane, but was apparently so enamored with the look she kept it for quite some time after filming ended. In tribute to her mom's daring style choice, Tallulah decided to brave the same look, revealing a picture of her freshly shaven head on Instagram with the caption 'Mawms is bae #thankgodgoodheadshapesruninthefamily.'
6. She's an inspiration to her sister
When Tallulah revealed details of her past struggles with alcohol, her sister Rumer was one of the first to take to social media to applaud her efforts at staying clean and sober for the past three years. "My beautiful Tallulah Belle I am so incredibly proud of you.3 years clean and sober is a massive achievement! The woman I have seen you become in the last 3 years has me in awe of you. You inspire me every day," her Instagram message read. "I love you more than words can say, my incredible baby sister."
7. She sees celebrity as a form of art
For several years after being thrown into the spotlight, Tallulah struggled with her new-found celebrity. Since then, she's learned to embrace it, thanks largely to her revised ideas about what celebrity actually is. "Celebrity has been pushed to a place of such absurdity because of the way we can consume images 24/7," she shared with Elle. " The cool thing is that now it's become a kind of performance art, where certain celebrities are taking ownership of the invasiveness that comes with fame, and they're turning it on its head."
8. She's not afraid to get political
Tallulah is certainly not afraid to put her money where her mouth is when it comes to the things that matter. In 2014, she decided to take action against Instagram's censorship policies by taking to the streets of New York topless. Her protest went beyond challenging the policies of social media, as she explained. "What I am arguing for is a woman's right to choose how she represents her body – and to make that choice based on personal desire, and not a fear of how people will react to her or how society will judge her," she wrote.
9. She's sought solace in art
Since leaving rehab, Tallulah has focused on developing her career as an artist, concentrating on what she describes as iconoclastic creatures with "exaggerated proportions and humanoid features." As she shared with Allure, she's found art to be a huge help in allowing her to face up to the challenges of sobriety. "Becoming sober, I had intense claustrophobia and anxiety of crowds," she explained. "I started doing the drawings because I didn't have that much to do. It's definitely taken on a life of its own."
10. She's featured in several films
These days, Tallulah may be best known for her art and social activism (not to mention her appearances as a guest host on MTV's Catfish) but for a while, it looked like she was going to follow the same acting path as her famous folks. Her first film appearance came in 1995 as the infant Pearl in The Scarlett Letter. In 2001, she appeared in Bandits as Erika Miller, while her last appearance as an actress came in 2004's The Whole Ten Yards.