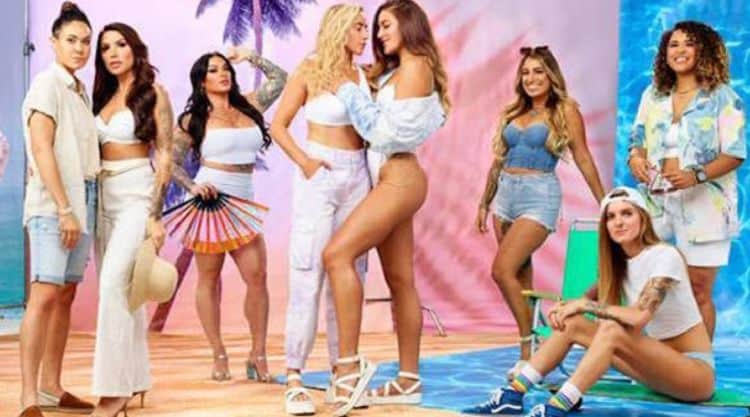 Reality TV has become very lucrative over the last 15 years, and as a result networks just keep coming up with new ideas for shows. One of the latest is an upcoming series called Tampa Baes which will be released on Amazon Prime. As you can probably guess by the title of the show, it's based in the Tampa area. The series follows an all-Lesbian cast as they navigate the ins and outs of relationships and other areas of life. The release date for the show hasn't been announced yet, but it's already creating a little bit of a buzz on social media. So far, lots of people don't seem to excited about the series, but that could change once it hits the air. Keep reading to learn 10 things you didn't know about Tampa Baes.
1. There Are 12 Main Cast Members
The main image that has been floating around for the shows eight women, but the cast will actually consist of 12 main members. According to the Tampa Bay Times, the official cast members are Ali Myers, Nelly Ramirez, Shiva Pishdad, Jordan Whitley, Marissa Gialousis, Summer Mitchell, Cuppie Bragg, Brianna Murphy, Haley Grable, Melanie Posner, Olivia Mullins and Mack McKenzie.
2. Season One Will Have Eight Episodes
Now that most people like to binge watch their favorite shows, knowing how many episodes are in a season is very important information. It's nice to have a heads up on whether you can finish a show in a weekend or if it'll take the entire week. Eight episodes of Tampa Baes have been ordered for season one – which means you can probably watch it in a weekend. However, it's unclear if all of the episodes will be released at once.
3. Some Of The Cast Members Are In Relationships
Unlike other reality shows that feature a relatively young cast, Tampa Baes won't be all about single people who are going out and partying all the time. Whole there will definitely be plenty of partying going on, some of the cast members are already somewhat settled down when it comes to their love lives.
4. The Show Is Produced By 3 Ball Productions
Having the right production company behind a reality show is a very important piece of the puzzle for success. Luckily for Tampa Baes, the show seems to be covered in that department. 3 Ball Productions has produced several successful reality shows including Extreme Weightloss, Bar Rescue, and Marriage Rescue.
5. It's Unclear How The Cast Was Selected
Even though we know who the cast of Tampa Baes is going to be, we don't know how any of the women were chosen. We didn't find any information about casting calls, but several announcements about the show have referred to the women in the cast as being part of the "it crowd".
6. The Show Doesn't Have Any Official Social Media Channels
Unfortunately for all of the people out there who like following shows on social media, that won't be an option this time. At the moment, Tampa Baes doesn't have verified accounts on any social media platforms. Of course, this could change once the show is released and develops a following.
7. People Are Already Accusing The Show Of Lacking In Diversity
Official press materials announcing the show have mentioned that the cast is diverse, but people on social media have already pointed out that that isn't really the case. In response to a tweet about the show, a Twitter user named Coco_Kitty722 said, "Just realized y'all got the audacity to use AAEV and there's not a single black person or couple in this cast". Another user named nivishere said, "they must have had a scale and paper bag at door in them interviews because".
8. Viewers Will Get A Glimpse Of The Beauty Of Tampa Bay
When many people thin of Florida, Miami and Orlando are the first places that come to mind. In recent years, however, Tampa has been getting a lot more attention and it has a lot of beautiful scenery to offer. Through the show, viewers will get to see some of the cool scenery in the area.
9. The Show Will Start In The Fall
Even though an official release date hasn't been revealed for the show, announcements have mentioned that it will be debuting sometime in the fall of 2021. This will give Amazon some time to build up more of a buzz. It's unclear if filming for the first season has already been completed.
10. The Show Will Be Released In Several Countries
The show may be based on Florida, but it's going to reach far beyond the Sunshine State. Not only will Tampa Baes be released in the United States, but it will also be released in the UK, Australia, Canada, India, and New Zealand. Worldwide distribution is also being discussed, but there's no information on when that will happen.