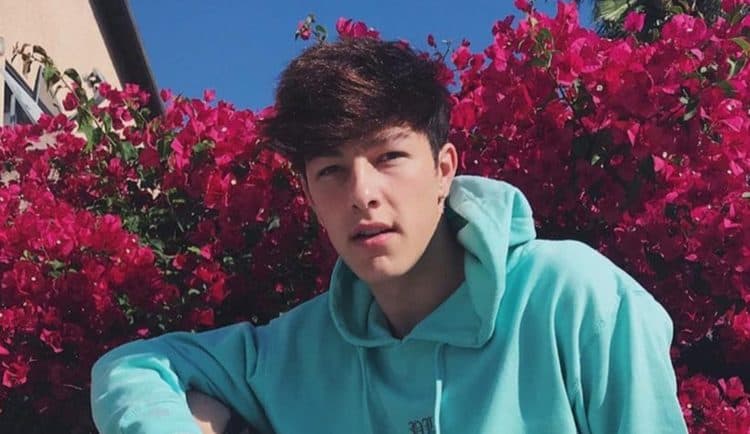 The advent of social media has given rise to famous influencers who make a living out of the marketing industry. With the start of platforms such as YouTube, Instagram, Musically, Tiktok, among others, social media celebrities have been born. One person you likely know is Tayler Holder. The Los Angeles-based social media star enjoys a massive following on his Instagram, Musically, Tiktok, Twitter, and YouTube. We cannot forget to mention that he is handsome, which charms his female followers. It is without a doubt that he enjoys the fame and recognition he gets. Despite being a social media sensation, there are facts you cannot obtain from his platforms, so here are a few facts about Tayler.
1. He is more popular on Tiktok than other social networking sites
The 22-year-old enjoys a massive following on his multiple social media accounts, but most of his fans are initially from Tiktok. Holder got his social media success on the Chinese music video platform and social network in 2014. He maintains a profile under the name "@itstaylerholder," and has almost 4.6 million followers, according to Tubehi. He captures the heart of his fans by posting videos on viral challenges and lip-syncing to popular songs.
2. He loves dogs
People love pets, especially dogs that have since time immemorial been crowned as man's best friend. The internet sensation thus shares an exceptional bond with his Pomeranian dog, Eli. The naturally loving and affectionate pet even has an Instagram account with a profile name itslittleeli. Tayler also added a new dog to his family as he shared on his Instagram. The dog, Kiah, also has an Instagram account under the name @imKiah.
3. He has two tattoos
Tayler has some distinctive features that make him noticeable and could as well serve as his celebrity identity. He has a tattoo of Roman numbers on his chest, and a rose on his left arm. He has not declared the meaning behind each of his tattoos, so we can only speculate. The tattoo on Tayler's chest represents the figures 873 in roman numbers, which must have quite an impact on him for him to have it permanently on his body.
4. He is into motor cross racing.
Holder's passion for motorsport dates back to when he was only three years of age. He includes dirt bike racing amongst his hobbies. His passion for dirt bike racing leads him to star in a Television series called "Dirt" where he plays Luke Dungey. The series documents the life of Luke and the family as they deal with the fierce rivalry of the motor cross-world, according to IMDb.
5. He is a singer
Tayler has already enjoyed his time in the limelight. He is yet to quench his thirst for fame since he has decided to try his hand in music. He takes credit for two songs currently; the first single he did is titled "Who am I," which he released on the 8th April 2017. His second one, "Fallback" got released on 17th August 2018. It seems Tayler has bigger ambitions in his newfound musical quest. He teased his twitter fans when he spilt the news of what could be his most significant musical career move. "New song with Drake coming soon! Lol jk, that could be though," the tweet reads. He goes ahead to reassure his twitter followers that the joint song with the Canadian superstar will drop sooner than they think . We can only wait for now and see what Tayler has in store for us.
6. Tayler Holder's net worth
How much does he make? What is Tayler's net worth? These are some of the questions his fans ask in search engines or on his social media posts. It is logical for his fans to question what he makes, considering the kind of life he leads. He is a young guy who seems to have his life together with no history of affluent family background. Tayler gets a higher percentage of his earnings from content creation and sponsored posts. He also has an online store to sell his merchandise. All his fortunes are approximately $1 million, and his monetary value probably grows as his fan base grows too.
7. He likes traveling
He has a long list of hobbies, and many people are only aware of his passion for dirt bikes. He's been to many places around the world, including France and Germany. One of the things in his bucket list is a trip to Iceland.
8. He is originally from Vernon, Texas
Before his social media boom, Holder was born and raised in Texas. He later moved to Los Angeles, California, after gaining internet prominence at the age of 18. The relocation to California is due to his aspiration to move up the entertainment world. His rise to stardom in his new base has presumably been due to him being an online celebrity and model too.\
9. Taylor's favorite actors
We know he has tried his luck on acting, from his role as Luke in the television series, "Dirt." He has also shared his interest in being an actor besides maintaining an online presence. Holder likes the "Mission Impossible" star Tom Cruise while his favorite actress happens to be Scarlett Johansson.
10. Who is Tayler dating?
Tayler's irresistible looks and physique would make any girl go weak at their knees. Therefore it is no wonder that he has been associated with several women. In the past, he reportedly dated fellow Instagram star, Kelianne Stankus. There are speculations that he had been going out with model and actress Kaylyn Slevin. A recent video posted by Holder on the popular video-sharing platform, YouTube, titled "Mukbang with my girlfriend," could be an indication that he is in a relationship. However, we are yet to know who the lucky girl is if there is one; celebrities can create a rumor to increase traffic to their channels.