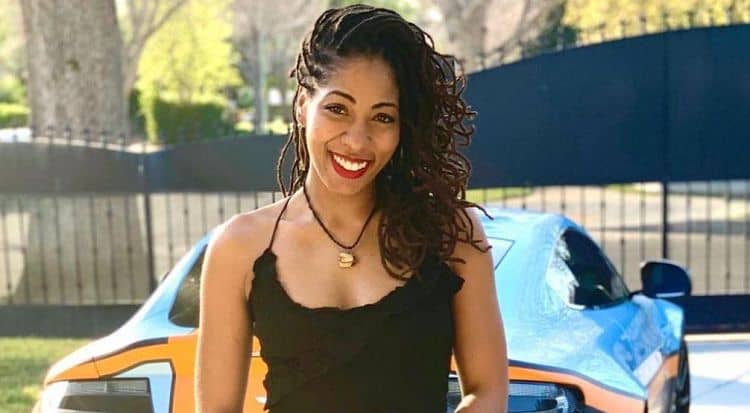 When Tayler Middleton agreed to enter into a relationship with Dimitri and Ashley Snowden, she had no idea that it would end with turmoil and broken hearts. Tayler, whose polyamorous relationship with the Snowdens was featured on season three of Seeking Sister Wife, had been single for several years before meeting the couple. Although things got off to a nice start, it quickly became apparent that Tayler may not be the best match for the couple and their other wife, Crystalline. Tayler eventually made the decision to leave the Snowdens, but their relationship is still the talk of the internet. Keep reading to learn 10 things you didn't know about Tayler Middleton.
1. She's A Henna Artist
During Tayler's time on the show, a lot of people were curious about what she did for work. After all, there aren't many people who can randomly decide that they're moving to a new state. Apparently, however, Tayler doesn't work in a traditional environment. She's a henna artist which means that she can work anywhere she's able to find clients. Her Instagram bio also states that she is a shadow healer.
2. Seeking Sister Wife Is Her Only TV Experience
Some viewers were concerned that Tayler was simply using her relationship with the Snowdens as a way to break into the entertainment industry. However, as far as we can tell, Seeking Sister Wife is her only TV experience and it doesn't appear that she's attempted to get on other shows in the past.
3. Her And Crystalline Might Still Be On Good Terms
A relationship between two people can be stressful, so you can probably only imagine how things can get when four people are involved. Although things didn't work out between Tayler and the Snowdens, it appears that she and Crystalline are still friends. Tayler posted a picture of the two of them together in April 2021. Several sources have also suggested that Crystalline is no longer on good terms with the Snowdens.
4. She Loves Being Out In Nature
Sometimes it's the simple things in life that mean the most, and that's something Tayler lives by. Tayler is the kind of person who enjoys spending time outdoors. She has lots of appreciation for the beauty of nature and she loves doing things like relaxing by the water and meditating.
5. She Appears To Be Single
Going through a breakup is never easy, but Tayler seems to have bounced back nicely. As far as we can tell, Tayler is no longer with the Snowdens and she appears to be enjoying the single life. We weren't able to find any information on whether or not she plans to explore polyamory any further.
6. She Likes To Stay Active
Taking care of her mind and body are two things that are very important to Tayler and regular exercise allows her to do that. Her idea of exercise doesn't just mean pumping iron at the gym, though. She likes to stay active by doing things like dancing, yoga, and cycling.
7. She Likes To Travel
Tayler isn't the kind of person who likes to sit in one place for too long. Instead, she likes to get out and see all of the beautiful things the world has to offer. Tayler enjoys traveling and being able to explore new places whenever she can. She especially likes to visit places with warm weather and beautiful beaches.
8. She Enjoys Her Privacy
Just because Tayler was on a reality show that provided an inside look at her relationship doesn't necessarily mean that her life is an open book. Outside of what she shared on the show, Tayler appears to be a very private person. She hasn't shared any information about her personal life and it doesn't look like she has any plans to.
9. She Isn't Letting The Haters Get To Her
Since being on the show, Tayler has had to deal with countless people sharing their opinions on her life. Unfortunately, not all of those opinions have been positive. Despite the fact that there has been a lot of negativity coming her way, Tayler has made it clear that she doesn't plan on letting the rude comments impact her life.
10. She Enjoys Connecting With Viewers
Thanks to her time on Seeking Sister Wife, Tayler has built a fan base of people who would love to learn more about her experiences with the Snowdens. She loves getting the chance to interact with viewers and she's become very active on Clubhouse, a platform that allows people to communicate in voice chatrooms.