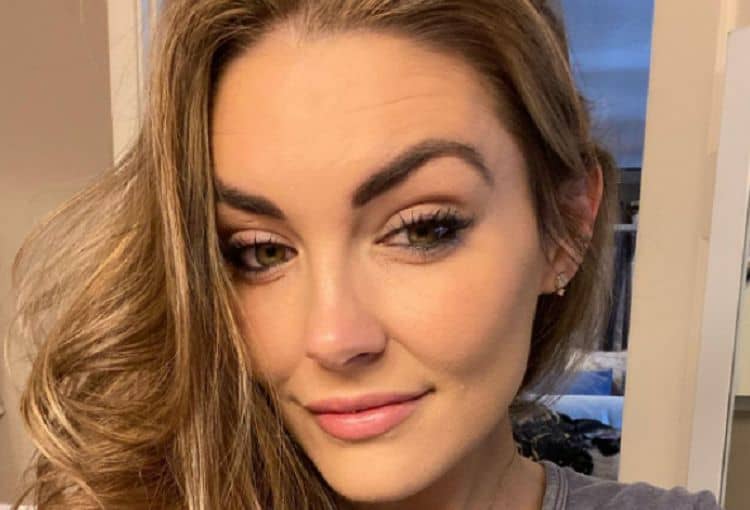 The world is full of two types of people. There are those of us who live and breathe Hallmark's Christmas movies for a solid month (maybe two because November) during the holiday season, and there are those of you who are married to those of us. We know the story. A big-time success comes home to a small Christmas town from the big city to help out with a bakery/funeral/inn/Christmas pageant and falls in love with the small-town guy who secretly owns all the things, and they live happily ever after – after the small miscommunication that seems tragic and awful at first – and it's just pure Christmas magic. Cookies and décor, and snowflakes, and lights, and family bonding time – and Taylor Cole is one of the many lovely actresses who spends her time starring in these cheesy movies for those of us who literally cannot get enough during the holidays. As she gets ready to showcase a brand-new Spring Season Hallmark movie, we thought we might introduce Taylor Cole to her fans.
1. She's an 80s Girl
Taylor Cole grew up in the best decade. She was born on April 29, 1984, in Arlington, Texas. She lived there throughout her childhood, though she did some extensive traveling as a teen because of her talent on the Volleyball court.
2. She's an Olympian
All right, she did not perform or play in the Olympics. However, she did perform and play in the Junior Olympics. She was part of the volleyball team, and she's good. She played her entire life, and her talents were unrivaled.
3. She's a Model
When she was old enough to take off from Texas, Cole moved to New York City to model. She was ready to start her career, though she had no idea at the time where that would take her. She began modeling, and that ended up leading her to star in music videos, to being part of primetime shows for both The WB and CW. She's been on CBS, and she's been in the movies.
4. She is A Hallmark Girl
She began starring in Hallmark made-for-television movies around 2016. She's been in many of them to this point, and she doesn't appear to slow down at any point. She knows she has a huge audience over there, and she is beyond happy to spend her time working on these feel-good movies.
5. She's Married
At this point, she is still a newlywed. She married her husband, a producer by the name of Cameron Larson, on June 20, 2020. Their wedding was in Lake Tahoe amid the pandemic that locked down most of California for the better part of a year, and they decided they'd just livestream their wedding for everyone to see and feel that they got to be a part of it.
6. She Met Her Husband on Set
There was a time when she and her husband were just friends. They met when she was working on Hallmark's "Matching Hearts," and they became friendly. They would spend time together as friends and with others, but it took them several years to begin dating. She even set him up with many of her friends while they were just friends. Lucky for both of them that it didn't work out between her husband and her friends.
7. She Always Accepts Hallmark Moves
Anytime she gets a script for a Hallmark movie from her agent, she knows ahead of time she will take it. How could she not? They are all feel-good movies that everyone adores, and they always make her feel good. It's easy to say yes to those because they are always a success.
8. She Loves Hallmark's Positivity
We have to go with her on this one. She's not wrong. Hallmark is an entire network dedicated to showing the world that happy endings are real. They do exist. They can be a reality for anyone. If you choose to be happy, you're going to walk away with your happy ending, after all. She says, "I think with other networks and television shows, they are trying to push the limit with the drama and are so much focused on the negative, that having an entire network which is dedicated to positivity is really refreshing for viewers," and we could not agree more.
9. Her Stepdad is an Actor
Her mom and dad are not married, but her mom is married to actor Shawn Christian. They met in Chicago while both auditioning to model for an ad. They began dating, and they got married after five years. Cole has known her stepfather for some time, and it was a visit to him and her mother in LA that actually landed her the very first television show she starred in (Summerland).
10. She's a Golfer
It really is one of the most fantastic sports to play, and anyone who doesn't spend time on the golf course is really missing out. She's an avid golfer. We already know she loves volleyball, but did you know she also practices taekwondo? She does. Oh, and she also surfs.