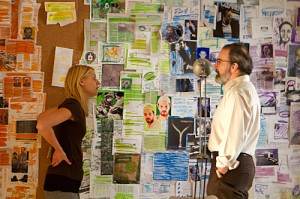 Following on the heels of the Critics Choice Award nominations the nominations for the Television Critics Association 2012 Awards have been announced. Showtime's Homeland has an impressive four nods, with Mad Men, Breaking Bad and Game of Thrones each receiving 3 nominations. The voting process means that some surprise shows have made it to the list (Smash) and for more on how the nominations are decided check out Alan Sepinwall's description here.
The TCA awards will be presented on Saturday, July 28.
Individual Achievement in Drama
Bryan Cranston, Breaking Bad – AMC
Claire Danes, Homeland – Showtime
Peter Dinklage, Game of Thrones – HBO
Jon Hamm, Mad Men – AMC
Jessica Lange, American Horror Story – FX
Individual Achievement in Comedy
Louis C.K., Louie – FX
Lena Dunham, Girls – HBO
Julia Louis-Dreyfus, Veep – HBO
Jim Parsons, The Big Bang Theory – CBS
Amy Poehler, Parks and Recreation – NBC
Outstanding Achievement in News and Information
Anderson Cooper 360 – CNN
The Daily Show – Comedy Central
Frontline – PBS
60 Minutes -CBS
The Rachel Maddow Show – MSNBC
Outstanding Achievement in Reality Programming
The Amazing Race – CBS
Dancing with the Stars – ABC
The Glee Project – Oxygen
So You Think You Can Dance – Fox
The Voice – NBC
Outstanding Achievement in Youth Programming
iCarly – Nickelodeon
Phineas and Ferb – Disney
Sesame Street – PBS
Switched at Birth – ABC Family
Yo Gabba Gabba – Nick Jr.
Outstanding New Program
Girls – HBO
Homeland – Showtime
New Girl – Fox
Revenge – ABC
Smash – NBC
Outstanding Achievement in Movies, Miniseries and Specials
Downton Abbey: Masterpiece – PBS
Game Change – HBO
Hatfields & McCoys – History
Hemingway & Gellhorn – HBO
Sherlock: Masterpiece – PBS
Outstanding Achievement in Drama
Breaking Bad – AMC
Game of Thrones – HBO
Homeland – Showtime
Justified – FX
Mad Men – AMC
Outstanding Achievement in Comedy
The Big Bang Theory – CBS
Community – NBC
Louie – FX
Modern Family – ABC
Parks and Recreation – NBC
Career Achievement Award
Dick Clark
Andy Griffith
David Letterman
Regis Philbin
William Shatner
Heritage Award
Cheers – NBC
Lost – ABC
Saturday Night Live – NBC
Star Trek – NBC
Twin Peaks – ABC
Program of the Year
Breaking Bad – AMC
Game of Thrones – HBO
Homeland – Showtime
Mad Men – AMC
Downton Abbey: Masterpiece – PBS