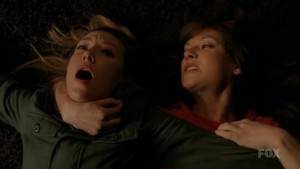 Those are fightin' words, but they were indeed uttered – er, typed – by Techland.com's Graeme McMillan. For those of you who don't know, Techland is a subsidiary of TIME magazine, one of the most prestigious magazines in the world.
Though I've been saying that Fringe is quickly approaching the level of quality that LOST held, McMillan took one step further and claimed that Fringe's third season will "one-up" the six-year Island drama that ended in may.
"Not content with introducing mainstream audiences to the concept of the multiverse last season," McMillan wrote, "Fox's Fringe is about to take its Parallel Earth storyline to the next level – and, in the process, one-up Lost's flashsideways narrative from that show's final season."
By the end of that sentence, you can already hear the collective raising of hackles from LOST fans everywhere. But hold on, there's more. After quoting an interview with Fringe star Jasika Nicole talking about Fringe's new format, McMillan threw the glove.
"Alternate storyarcs for alternate episodes for half the season? Suddenly Lost looks weirdly unambitious."
Ohhh, snap.
Now, here's the weird thing about it. In a way, I kind of agree with McMillan. There's no doubt that LOST is one of the greatest TV shows of all time (even if you didn't like the ending), and its status in history is pretty much cemented. But while everyone is struggling to find "the next LOST" in new shows (like last year's fizzling FlashForward and the brand new AMC series Rubicon), most haven't realized that we've had the next LOST on our plates for two years.
Having premiered on a dull year for sci-fi TV (the FlashForward/V rush didn't begin until the next year), Fringe had a slow start gaining its footing, and many viewers left the show in exasperation. But, in a strange exception to the general TV rule, Fringe really started to get better at around the midway point of the season. And don't even talk about season two, which was quite possibly the best of the fall TV season. Fringe really came into its own, though most viewers didn't stick around to see that happen.
Now, we're looking at an even more ambitious season three, which will probably blow our collective mind. If Fringe can increase it's season-to-season quality as much as it did last year, I say hell yeah, we're looking at a show that is as good as our beloved LOST. Will it get the same recognition? No, because it didn't change TV in the way that LOST did. But will it fill the LOST void? Again, I say: hell yeah.
Fringe's third season premieres Thursday, September 23 at 9/8c.