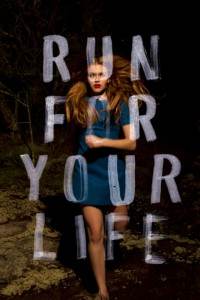 Despite tonight not being a full moon (boo!), that doesn't mean that MTV's Teen Wolf will take a break from raising the hair on the back of our necks this week through our television sets. And besides, these werewolves are apparently not slave to the lunar cycle so they can wolf out anytime they want. For us, that is a very good thing, but for the reigning power couple of Beacon Hills High, Jackson (Colton Haynes) and Lydia (Holland Roden), this could seriously wreck their social calendar.
MTV's tumblr page for Teen Wolf released the following photo this weekend of Lydia running scared through a seemingly wooded area, with the words "Run For Your Life" super-imposed over the picture. Under the photo, there is only one word of warning for viewers: "Tomorrow."
It looks like a glam shot for an episode of America's Next Top Model, but the message is clear: Lydia is in trouble. But from whom?
Lydia's other half (at least during high school), Jackson, will find himself facing the supernatural as he crosses paths with Derek (Tyler Hoechlin) at school. Instead of giving Derek the information he needs, which is the whereabouts of Scott (Tyler Posey), Derek decides to play detective and might have crossed the line. See this confrontation as it unfolds:
Derek, here's a lesson: If a strange-looking fellow approaches you as if he's on a cocktail mixture of speed and meth, put away your manhood and walk away. Trust us, you will not regret it later.
What do you guys think will go down in tonight's episode? Will Lydia and Jackson become victims/pawns to the werewolves of Beacon Hills?
Teen Wolf airs tonight on MTV @10/9c.