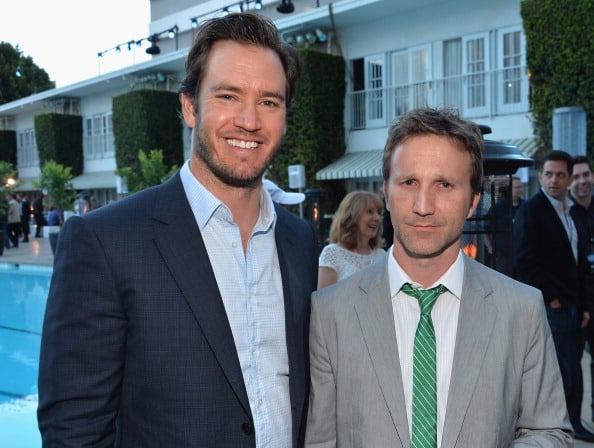 Mark-Paul Gosselaar is known to many television fans as Zack Morris. However, the actor has proven himself to be quite the talented artist appearing on several popular TV shows since ending his four-year run on Saved by the Bell (five if you count the one awful season of Saved by the Bell: The College Years). Earlier this year, Gosselaar reprised his role as that lovable high school schemer on an episode of The Tonight Show Starring Jimmy Fallon alongside co-stars Mario Lopez, Elizabeth Berkley, Tiffani Theissen, and Dennis Haskins. Also, two months ago, the 41-year-old welcomed his fourth child into the world. Sadly, Gosselaar's latest television adventure, the lawyer comedy Franklin & Bash, was not picked up for a fifth season by TNT.  So let's take a look back and reminisce about the television career of this awesome actor.
 The Guest-Starring Years (1986-1988)
Mark-Paul Gosselaar actually got his start in television in the late 1970s by appearing in commercials for popular food products like Oreos and toys like Smurfs. By the mid 1980s he would begin guest-starring on popular television series. His first role was on a 1986 episode of Highway to Heaven, which featured Michael Landon. That same year he would star on the short-lived crime drama Stingray and he would appear in a segment of The Twilight Zone alongside Fred Savage and Lukas Haas. Two years later, Mark-Paul Gosselaar would be reunited with Fred Savaged when he was on an episode of The Wonder Years. That year would also feature appearances on Charles in Charge and Punky Brewster.  1988 would also be the year that would change his life forever.
The Good Morning, Miss Bliss and Saved by the Bell Years (1988-1994)
Mark-Paul Gosselaar would be cast in a comedy for the Disney Channel called Good Morning, Miss Bliss. The unaired pilot featured other popular teens at the time including Jaleel White, Brian Austin Green, and Jonathan Brandis. When the show was picked up to a series, Gosselaar along with Dustin Diamond and Lark Voorhies were featured as the characters Zack, Screech, and Lisa. Dennis Haskins portrayed Mr. Belding and Haley Mills played Miss Bliss. The show was cancelled after only 13 episodes, but since NBC produced the series for Disney, they decided to obtain the rights and produce it on their own network with a few minor changes.
On August 20, 1989 Saved by the Bell premiered on NBC with Gosselaar, Voorhies, Diamond, and Haskins reprising their roles. Elizabeth Berkley, Tiffani Thiessen, and Mario Lopez were added to the cast. At first, it looked like the series was going to fail. However, it would soon gather momentum and become the highest-rated show on Saturday mornings. Gosselaar would be nominated for five Young Artist Awards for his work on the series and would take home the win in 1991. During his time on the series, Mark-Paul Gooselaar guest-starred on Murphy Brown and Blossom.
 The TV Movie Years (1994-1998)
When Saved by the Bell concluded in 1993, Mark-Paul Gosselaar would go on to star in the spin-off series that featured the gang in college and aired on primetime.  However, it would be cancelled after one season. After that, Gooselaar would appear in many television movies. He starred alongside the Lawrence brothers in the 1996 movie Brothers of the Frontier and with Candace Cameron Bure in She Cried No.  The following year, he would star in the TV movie Dying to Belong, which also included Hilary Swank and Sarah Chalke in its cast.
Two Short Lived Series (1998-2000)
Mark-Paul Gosselaar tried to make a comeback to television in 1998 on the WB series Hyperion Bay. The series was about a man who returns to his hometown to run a division of the company he has been working at in California. The series was cancelled after 17 episodes because The WB network felt the show was not hip enough for its teen audience.  In 2000, Gosselaar would return to the WB and appear on the drama D.C., which also starred Daniel Sunjata. It would be cancelled after 7 episodes. Fortunately, it would not be long before Gosselaar would find another iconic role to play.
NYPD Blue, Commander in Chief, and Several Other TV Project Years (2001-2010)
The ninth season of NYPD Blue saw the departure of Rick Shroder, who had played Detective Danny Sorenson for three seasons. He would be replaced by Mark-Paul Gosselaar in the role of Detective John Clark Jr., a part he would continue to play for four seasons until the series was cancelled in 2005. This part helped Gosselaar break his Zack Morris image with the adult story lines and the shedding of clothing. When the series concluded, Gosselaar was immediately picked up to star in another ABC drama. Commander in Chief debuted in September 2005 with Gosselaar's first appearance not being until November. Despite strong ratings early in the season, the series was cancelled after one season.
In 2008, Gosselaar would appear as attorney Jerry Kellerman on the TNT drama Raising the Bar. It held the record for being the most watched new show on a cable network with 7.7 million people tuning in to watch the Steven Bochco series premiere. The popularity from the 10-episode first season garnered a second season with 15 episodes. Sadly, season two ratings dropped and the show ended on December 24, 2009. Gosselaar was also able to guest-star on popular series like Rizzoli & Isles and Weeds during this time.
The Franklin & Bash Years (2011-Present)
Mark-Paul Gosselaar would once again be playing a lawyer when he was tapped to star on the TNT drama Franklin & Bash. He would play Peter Bash to Breckin Meyer's Jared Franklin. The series was successful enough to remain on the air for four 10-episodes seasons. The show would experience many cast changes with Gosselaar's NYPD Blue co-star Garcelle Beauvais leaving after season two. Heather Locklear would fill the void during season three, but would not come back for the final season which ended on October 22nd.
Gosselaar made several appearances on CSI this season and will next appear in the TV movie People are Talking. 
What was your favorite Mark-Paul Gosselaar role? Let us know in the comments section below.
Photo by Alberto E. Rodriguez/Getty Images