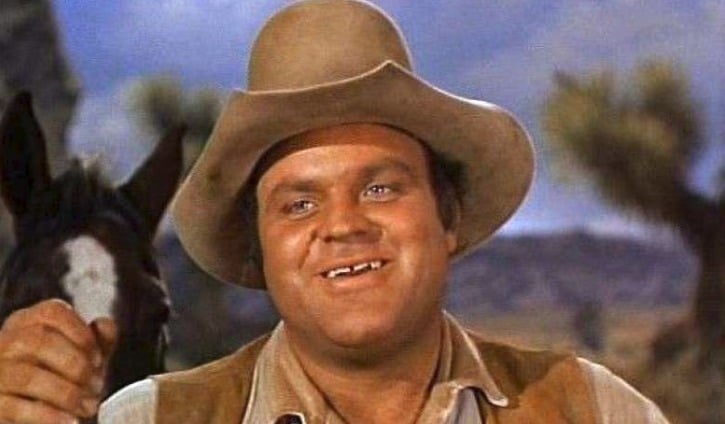 Among the many TV immortals Dan Blocker is one of the most memorable. Having played Hoss Cartwright on Bonanza for 13 seasons he was one of the most well-known and respected individuals on the show and in TV. The series was ranked at the number one spot for three seasons in a row and was in the top for an unbelievable nine seasons. Sadly however Blocker passed away at the age of 43. His was a death that was felt by a lot of people in Hollywood and throughout the nation, as he had proven to be one of the greatest TV actors to ever step onto the stage and perform.
He was an obvious stereotype.
There was no getting around it, Blocker was a big man. Standing 6'4″ he was cast as the gentle giant of the show, the guy that would give you the shirt off of his back but wasn't wise to cross if you wanted to keep all the teeth in your head. Despite his size and obvious capability for menace he was still the character that managed to convey a lot of empathy and warmth throughout the show as even off stage he was friendly to everyone and brought a very upbeat personality to the show that people tended to like. Big men tend to either get put into a show or a movie as the gentle giant or the absolute menace, but for a show like Bonanza there was really only one way it could go.
He was going for his PhD at UCLA.
This was the initial reason why he moved out west to California. Blocker was discovered in a phone booth making a call while he was dressed in Western grab and a cowboy hat. Having been from Texas this was pretty normal at the time and it served him well since it got him the part on the show. But sadly he never got to complete his PhD since his working schedule kept him way too busy to keep up with his education. This puts to rest the myth that so many big guys are all brawn and no brains, as they don't just hand out PhD's to anyone. Blocker was a very intelligent man and was going to prove that, but instead this intelligent giant decided to make his name known and entertain the people instead.
Blocker fell in love with acting at Hardin-Simmons University.
He started his undergraduate work in 1946 and was recruited by a girlfriend to perform in a campus production to fill the role of the strong man. So it's pretty obvious that size was always a big draw for Dan when it came to acting, but thankfully he had talent to back that up. Any big man can stand there and look big and tough, but it takes someone with enough brains and enough charisma to really pull an acting career off. Eventually after graduating in 1950 he made his way to Broadway where he appeared in a production of King Lear. After that he was drafted into the US Army and served in the Korean War where he attained the rank of sergeant. After he was demobilized Blocker earned his master's degree in the dramatic arts. He went on teach English back in Texas before he moved his family to California, where he was going to undergo his PhD studies.
https://www.youtube.com/watch?v=AcyNLN-ihOM
He had other parts in TV.
He was seen in various other shows such as The Sheriff of Cochise, Gunsmoke, Have Gun-Will Travel, The Rifleman, and even Maverick. Bonanza debuted in 1959 and was the show that eventually made Blocker a legend. Along with his three costars, Lorne Green, Pernell Roberts and Michael Landon, Blocker was earning $10,000 per episode and started earning even more when Roberts decided to quit after the sixth season. Between the salary, royalties, merchandise, and even the Bonanza Steak House Chain that Blocker opened up in 1963, he became a very wealthy man.
Men like Dan Blocker don't come around all that often and it's hard to find people that can fill their place once they're gone. The big man in any movie or TV show is usually the one that's the most underestimated largely because big men tend to give people the feeling that they're slow on the uptake and slow when it comes to moving. But Blocker was definitely one of those that was a surprise in the making since despite the fact that he could play the simple, gentle giant on Bonanza, he was very intelligent and gregarious person off the set. He was known for being a very kind man to all those that he cared about and was missed terribly when he passed away. Those that watch the reruns probably won't ever know just how great a man he was but at the very least they can see that he was one of the greatest actors of his time.