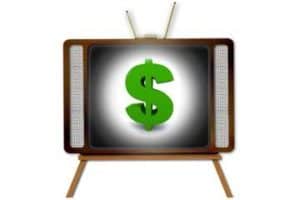 Forbes put together their annual report of the biggest moneymakers in TV, and it shouldn't surprise anyone that American Idol led the way, making $7.1 million every half hour in 2010. The number is down 12 percent from the previous year.
Two and a Half Men placed a very distant second, raking in $2.89 million for CBS.
Below are the top ten:
1. American Idol (FOX) $7.1 million
2. Two and a Half Men (CBS) $2.89 million
3. Desperate Housewives (ABC) $2.74 million
4. Grey's Anatomy (ABC) $2.67 million
5. Dancing With the Stars (ABC) $2.67 million
6. Lost (ABC) $2.60 million
7. The Big Bang Theory (CBS) $2.50 million
8. 24 (FOX) $2.45 million
9. Private Practice (ABC) $2.32 million
10. Mike & Molly (CBS) $2.11 million
By network, ABC makes up half of the top ten, while CBS contributes 3 shows and FOX a pair. NBC is noticably absent.
The report adds that Glee (FOX) brought in $2 million per half hour, good for 11th place and Modern Family (ABC) earned $1.6 million, which would put it at number 16.
How does Forbes put this report together? They explain:
"To determine which series generated the most advertising revenue in 2010, we turned to the data crunchers at Kantar Media who track ad spending among other metrics. The firm surveyed all regularly scheduled prime-time shows, excluding sports events, for our fourth annual version of the list. For an apples-to-apples comparison of network programs of differing lengths, the series are ranked based on ad revenue per average 30 minutes.
To be sure, the revenue figures provided are estimates. The amount individual buyers actually forked over for their collection of 30-second spots varies, depending on advertisers'perceptions about a show's value to their clout with the respective network. What's more, this list doesn't factor in the millions spent to produce and license these shows."