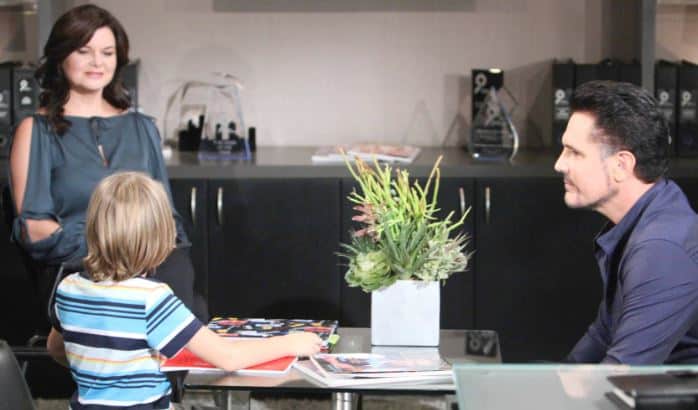 The Bold and the Beautiful fans aren't even trying to guess if this week is going to be dramatic after all we watched go down last week. For one, we all watched with baited breath as everyone and their mother literally had nothing nice to say about anyone else. Two families were basically divided as they stood up for people they don't want to see have a baby and one they do want to see have a baby. Brooke decided to go against her sister in the battle for her son, and she stood up and testified on behalf of her ex-husband. Then she found out her own husband bribed the judge in the case, and that's probably why Bill didn't get his son in the custody hearing decision. It was an ugly situation for all of them, and now she's furious. She's taking her anger out on her husband, and we can't wait to see how that all unfolds in the coming days. We don't expect her to be calm – at all.
We did, however, get to see some seriously good stuff when we saw Wyatt and Sally come together. They are such a cute couple, and fans are huge fans. We saw a wedding between Katie and Thorne, some emotional moments with them, and we got to see some familiar old faces show up. We also get to see a new face that belongs to Wayne Brady as his daughter made her first appearance on the show to help her friend Emma get her life together. It was a fun week, and now we get to see how some of these things are going to end or how they are going to take the road that is always less traveled. This week will not disappoint, we are certain.
What's Happening on the Bold and the Beautiful
We love to see these #BoldandBeautiful smiles for #WorldSmileDay! 😃 pic.twitter.com/PUybNjE36E

— Bold & The Beautiful (@BandB_CBS) October 5, 2018
Did you guys know it's World smile day? We didn't know, but we certainly smiled all weekend enjoying our fun in the sun in the sunshine state where fall never arrives and the water is warm along with the air. We certainly hope you all had the same smiles as you enjoyed your own long weekend.
What's Next on the Bold and the Beautiful
Escape, love, and believe with #BoldandBeautiful weekdays on @CBS. 💙 https://t.co/3XO1GL4J05

— Bold & The Beautiful (@BandB_CBS) October 5, 2018
Brooke ended last week upset and angry with her husband when she found out that he had a little something to do with the decision that the judge made in the custody battle. She's going to the courthouse to speak with the judge, and she's going to manipulate him into making some details known to her so she can find out what her husband did and said, and we assume she will then use that information against him. She's that person, so we don't even bother to try and put it past her. She's a mad woman. And what makes this all the worse is that Bill, Katie, and Will are spending some quality time together as a family. This might just be the thing that makes them better parents to this young man, but Brooke's interference at this point is going to make things very ugly for all of them. She needs to stay out of it, but we know that it's not her situation and her job. She can't do it.
And then there is Ridge. He's going to find out what his wife is up to, and he's not going to like it. Things like that just don't work for him, and he will not be happy that Brooke is not letting this go. It all worked out, and it isn't even a bit of her business. But, she's not the type, so we predict that this week will bring with it some serious issues, some big problems, and yet more trouble in the marital paradise they don't have.
Stay tuned for more The Bold and the Beautiful and be sure to check out TVOvermind daily for the latest The Bold and the Beautiful spoilers, news, and updates.