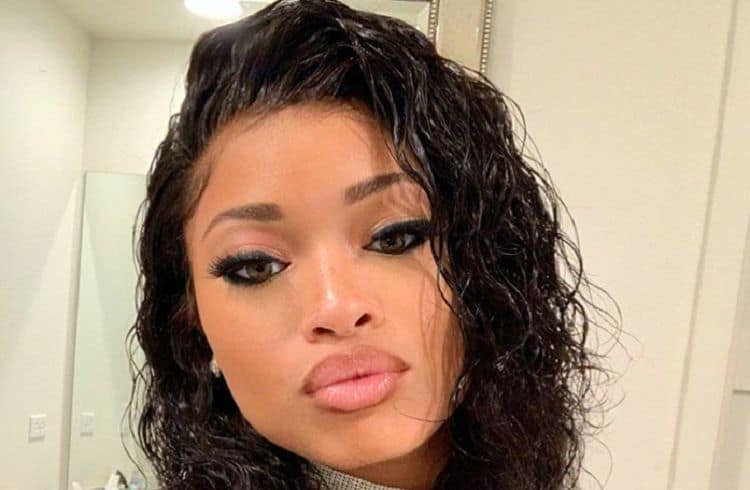 Wild 'n Out by Nick Cannon is one of the most popular shows on television programming. It debuted on MTV 15 years ago, and currently, it is in its 14th season. It is a comic show taking on a sketch comedy setting. From season 12, Teresa Topnotch graces the show, and you can take note of her presence when it comes to the faceoff session. She loves to twerk, and you can always hear cheers from the crowd when she graces the stage. If you are interested in knowing much about this Wild 'n Out addition, then stick on as we present you with ten things that you probably did not know about her.
1. Growing Up And Early Life
Teresa Topnotch was born Teresa Celeste on the 6th of August 1991, meaning she is currently 28 years old. She was born and raised in South of Atlanta, Georgia, according to MyBioHub. Not much information is available on her family, and it is not clear if she has siblings or not. It is likely a move to separate her personal life from her professional life.
2. Her Love For The Camera
In interviews, Teresa is not afraid to talk about her passion for the camera, mainly in front of the lens. Her love for photography is what most likely drove her to her acting career. When popular social media platforms debuted, she loved the idea that she could have her snaps taken and, later on, have them decorate her online handles.
3. Her Acting Career
According to Issuu, Topnotch ventured in the entertainment industry in 2015, with her eyes set on acting. She took part in minor projects and several documentaries as she made a name for herself due to her adaptability element on the stage. Her consistency and hard work would open several doors for her, leading to many opportunities. According to her film credits on IMDb she took part in projects such as Tales and the 2019 remake of How High.
4. Her Stint In Wild 'N Out
The Nick Cannon hosted show has been her ticket to fame, and she has been a standard feature from the 12th season of the show, which premiered in mid-2018. She features on most of the sketches, taking part in the battles as a member of the red team on most occasions. Her humor is on another level, and when it comes to dropping bars, you cannot predict what will come out of her mouth.
5. Celebrities She has Worked with
In the few years she has been in the entertainment industry, Teresa has rubbed shoulders with many A-list celebrities. She has gone on to work with some of them, and they are mostly from the hip-hop scene. They include Kevin Gate, Trae The Truth, T.I, 2Chainz, DC Young Fly, and many more. Taking a look at the listed names, she surely can hold her weight when it comes to having a decent portfolio.
6. Social Media Presence
To Teresa Topnotch, social media is one of her most significant tools and she owes a lot to its platforms for her flourishing career. She says that to many internet celebrities, their social profile is their mask, but to her, it is a gate to who she is. She has a strong following in all the major platforms such as Instagram, Facebook, YouTube, and Twitter. On Instagram, which seems to be her favorite social hub, she has over 1 million followers. She has 4646 posts at the moment, and they are mostly her pictures, with some being of her friends and associates. On Twitter, she has over 6300 followers though she is not that active with her last tweet being sometime in July 2019. Her YouTube channel has 2.22k subscribers with around 56 uploads.
7. Her Influencing Career
Aside from acting, Teresa takes on the role of an influencer, banking on her immense social media popularity. She works with several brands, where she endorses their products on her handles. Some of her press placements include The Shade Room, Baller Alert, and Power 105.1,
8. Modeling
Teresa is beautiful, and many of her fans are curious to know if she takes part in modeling. While it is not clear at the moment, she can be an excellent addition to any agency that needs models. A look at her photos on her social media platforms, and you get the picture of her as a sassy model hitting the runway. She is also into fashion, and shows off her creativity from the way she dresses up, which is an added advantage should she decide to model.
9. Her Hobbies
As earlier mentioned in this article, Teresa loves being in front of the camera, and photography is among her hobbies. This is evident from her Instagram, where her photos make up most of her over-4600 posts. She is also into fashion, as you can see from the way she dresses, especially when pairing up. Another of her hobbies that you may take note of when you watch Wild 'n Out is dancing. You may catch her burst a move once in a while. She can also rap, though she does it merely for fun, on the show during the head to head sequences.
10. Believes In Professionalism
One noticeable thing about how Topnotch conducts her affairs is the professionalism factor. In just a short while in the industry, she has clawed her way to where she is now. As part of her professional conduct, she works under an agency, J. Pervis Talent Agency, which handles her schedule and other aspects of her acting career.
Conclusion
Teresa Topnotch is among the visible figures on the MTV show, Wild 'n Out. She ventured into the entertainment industry five years ago, and over time, she has made a name for herself as one of the entertainers to watch in the future. Above are some of the things about this actress and comedienne that you probably did not know. Follow her on her social media pages to find out what she is up to.