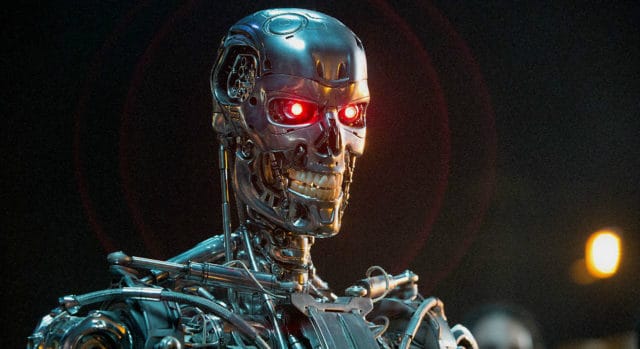 Ever since James Cameron was quoted as saying that he liked Terminator Genisys you knew something was going to go down.  Despite the fact that Arnold Schwarzenegger has reportedly said his last "Hasta la vista" in the franchise, when it comes to movies that mess with the past and future there's really no limit as to how far (or how stupid) they want to go.   Head man James Ellison has just announced that the Terminator franchise has an "incredibly bright future."  Here's his quote:
"I will say we have resolved the future of the franchise and believe me it's an incredibly bright future. I think where it's going will be the continuation of what the fans really wanted since T2. We have something this year that we will be announcing for the franchise. It's something we're incredibly excited about and we think is the direction it needs to head." (via Collider)

It's extremely hard to make out what this means but let's give it a try.  Since Ellison is referring to T2 that's gotta mean a James Cameron involvement in some way.  By no means does it mean Cameron would be the director but like I said, involvement in "some way."  Right now he's got Avatar to keep him busy for what should be the rest of his natural born lifetime.   But the fact that Ellison is almost apologizing for the franchise since T2 means that he wants to at least get it back to Cameron's vision.  As to how much involvement Cameron will have, we don't know, if at all.
There's been no mention of a story or even casting but the fact that a big announcement is coming has to mean at least something in the Terminator universe is brewing.  So we've got that going for us, which is nice.