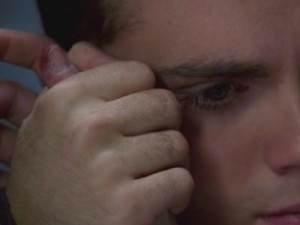 And it starts now. At the morgue. And a drawer labeled 'Jane Doe'. John can hardly look at her, pulling her out, but he forces himself. For a few moments he's clinical. There are bruises on her neck; and her hand, when he holds it, shows signs of fighting. Does he know? Does he realize that Cameron wouldn't fight, she would just shoot? Does he know that it's all wrong? Who knows, but analytical quickly turns to emotional as Riley's hand is no longer examined…just held. Softly. There, with the one person who deserved better than this, he says the only thing he can say.
'I'm sorry.'
Slowly he releases her hand, lays it back down and pushes her back into the drawer. He shuts the door.
Back at the hotel, Jesse's sitting in the same chair she was at the opening. Nervously she touches the lamp on the table beside her. Anxiously, she taps her fingers. She waits.
…And so do we.
Next episode: WHAT'S IN THE BOX!!!!!! Part two of two and "The Last Voyage of the Jimmy Carter". Check out the forums before Jesse has a chance to kill those, too!