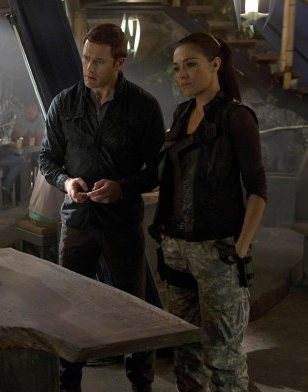 Terra Nova passes the half-way of its first season eight-episode order with tonight's 'Bylaw,'and with it the blood flies as the colony experiences its first murder. It's up to Jim (Jason O'Mara) and Commander Taylor (Stephen Lang) to uncover the plot, as Elisabeth (Shelley Conn) fights to save the life of an unborn Ankylosarus. Didn't get a chance to watch? Well, read on for everything you need to know about Terra Nova's 'Bylaw'!
On a dark, isolated Terra Nova night, a young soldier named Foster approaches a communications relay station that had been abandoned. With no answer from the inside, Foster enters to find…a dinosaur that eats his face off! The next morning, Taylor (Stephen Lang), Jim (Jason O'Mara) and Dr. Wallace (Rod Hallet) inspect the scene, finding clues and claw-marks that don't quite paint the incident as an accident…
Elisabeth (Shelley Conn) examines a digial autopsy of Foster's body while Wallace examines a dinosaur egg recovered from the scene. As Jim arrives with their young daughter Zoe to check for a progress update, Elisabeth discovers traces of Gallosaur blood, another dinosaur seen as prey for the one that killed Foster. Seeing the other dinosaur's presence as bait to entrap one in waiting for Foster, Jim declares the case to be a murder investigation, something Commander Taylor reluctantly goes along with.
A quick investigation of Foster's friends and fellow soldiers at the local bar reveals that Foster had been seeing a woman in secret, but the only way to discover her identity would be to examine Foster's digital dog tags, now in the belly of the dinosaur that killed him. Road trip! The team chases down the animal with their tracking device, and cuts it open (discreetly) to discover that the woman worked in the mess hall, and wears a ring on her finger! While questioning the standoffish woman, her husband returns home, only to confess being Foster's killer to Jim!
While Wallace and Elisabeth study the birth defects inherent in their dinosaur egg, Jim and Taylor interrogate Foster's supposed killer, whom Taylor fears he'll have to banish Given Terra Nova's bylaws regarding murder. After a funeral procession, Jim and Elisabeth argue over Taylor's 'frontier justice,'a fear confirmed when the colony agrees to banish him from Terra Nova the following day. Before he gets too far however, Jim confronts him in the wild, and gets him to confess that he didn't commit the murder after all, but confessed to spare his wife!
Smuggling him back into Terra Nova to Taylor's chagrin, Jim takes the man back to his wife, who claims not to have killed Foster either, but rather that Foster had several illegal gambling debts to Boylan, the owner of the bar. Jim and the other security forces arrest Boylan and turn over the bar looking for a secret ledger to prove Foster's gambling debts. When Boylan apparently escapes, Taylor, Jim and a young soldier named Curren set off in hot pursuit, only to reveal that Boylan hadn't escaped at all, and the whole thing was a setup to flush out Curren!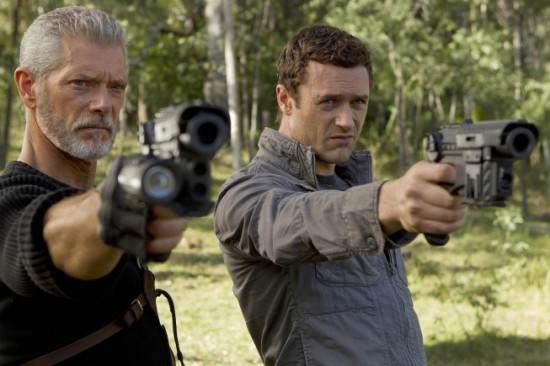 Curren had apparently owed money to Foster, and set up the dinosaur attack to erase his own debts! When he tries to turn the tables on Jim and Taylor, Taylor reveals Currren's gun to be empty, and condemns the soldier to banishment outside Terra Nova. We're sure that won't result in any bloody revenge, at all!
Later, Jim okays Josh to work at Boylan's bar after all, but instead Josh takes a trip outside the walls with Skye to meet with Mira and the other Sixers, in order to negotiate passage for Josh's girlfriend Kara from 2149. Mira relents, under the condition that she may call on Josh for a favor at any time.
Back at the colony, the dinosaur egg hatches into a young Ankylosaurus, which the Shannons agree to keep for the time being!
Did you get your fill of dino-action? What did you think about the episode? Join us next week for an all-new episode recap of Terra Nova on FOX!