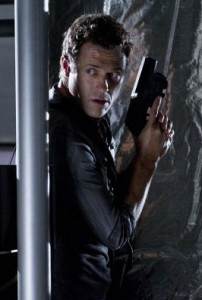 Too tempted to wait until tomorrow night's two-hour Terra Nova season finale? Well, good news, everybody! By becoming a fan of Terra Nova on the show's Facebook page, you can catch an exclusive eight-minute sneak-peek of the epic finale, set to air on Monday, December 19th at 8/7 central on FOX.
In it, you'll catch the first eight minutes of part one 'Occupation,'as well as gain the ability to share with your friends a special 90-second preview of the finale event! So what can Terra Nova fans expect when FOX unleashes the first season's dramatic finish?
When last we left Terra Nova, the colony was preparing for battle as Lucas Taylor (Ashley Zukerman) succeeded in creating a two-way time portal between Terra Nova and the year 2149, returning to gather the army that would eventually invade the prehistoric Earth to strip it of its resources. With the 11th pilgrimage to Terra Nova due to arrive in mere days, the colony holds its breath as it prepares for the possibility of war emerging from the portal.
By liking Terra Nova's Facebook, you'll be able to check out the first eight minutes, which takes us back to 2149 for the first time since the pilot episode to see Lucas overseeing his army's preparations, as back in time Jim (Jason O'Mara) and Commander Taylor (Stephen Lang) oversee increased security at the portal in case of the worst. But when the first new colonists of the 11th pilgrimage arrive (including Josh's long-lost girlfriend Kara) trouble isn't far behind, setting us up for an explosive finish!
Will you be watching when Terra Nova takes on the Sixers and Lucas'army for ultimate control of the past? Will Josh and Kara get their long-awaited reunion? And who's that heartbreaking character death the actors and promos keep talking about? Tune into Terra Nova's two-part season finale to find out, and in the meantime check out these previews below and use the arrows above to browse through photos!