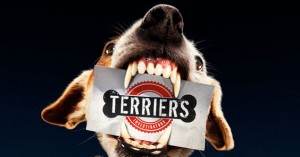 More bad news for another critically-acclaimed but low-rated show. First Fox canceled one of its new shows of the season – Lone Star – despite the high critical reception it got. Then AMC announced that it wouldn't be renewing Rubicon for a another season, despite the ardent fan base and love by several critics.
Now FX has announced that it won't be renewing Terriers after its first season (which consisted of 13 episodes). Terriers has been on the bubble over at FX for a while. In fact, its creators (Ted Griffin & Shawn Ryan & Tim Minear) posted a plea out to fans to watch the show (you can read the full text here).
Unfortunately, it wasn't enough. On the one hand, the final episode that aired last week was up in terms of ratings. 784,000 viewers tuned in (with 405,000 being in the 18-49 demographic. That was up from the 542,000 viewers and 212,000 in the 18-49 demographic from the week before. The show was the lowest rated first-year drama series ever on FX and generally averaged 970,000 viewers live (with 509,000 of them in the adults 18-49 demographic).
Hopefully fans of Terriers will end up with the full series on DVD. If you happened to miss some of the episodes and want to catch up, you can read Cory's review of the complete series here.