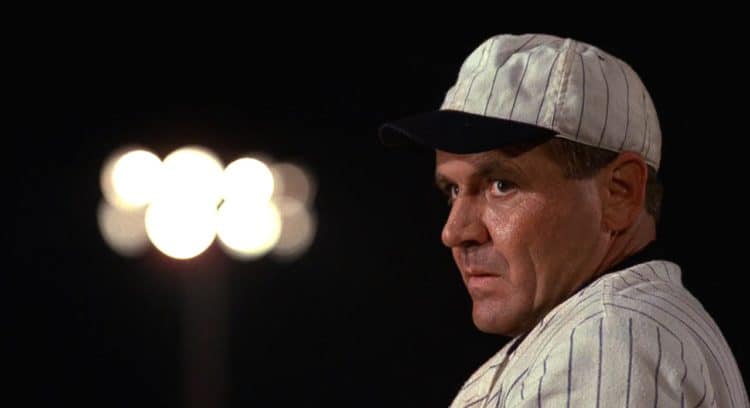 It takes a rather sufficient effort to get into show business and it takes a hefty effort to become popular enough to stick around. But what Steve Eastin and many other people have done over the years is nothing short of great since he's not exactly leading man material and he's definitely not the type for comedic relief, but he is a strong pillar as a supporting and extra actor and someone that can deliver a line and make a person believe it. That's something that even some A-listers can't really do on a regular basis since they have their ups and downs frequently, where long-timers such as Eastin have found a way to get into show business and stick around since they might not have the qualities that put them out front all the time, but they have plenty of other qualities that help them to bolster a movie when it needs it and to add that extra support that every movie can definitely do with from time to time. Some people might be wondering what the hell I'm talking about, but the fact is that movies aren't built around A-listers all the time, since a lot of them would go belly up in a heartbeat if the lead actors had to take the burden of pushing a movie forward. Supporting actors and extras are necessary for a lot of things, one of them being the type of realism that a lot of people love to see in a movie.
What Steve and many others tend to do is simple; they're there to be a part of the scenery when necessary and to be interactive characters when the moment comes along. As someone that's been in the business since he was very young, Steve has come to learn what it is to find one's place in the entertainment industry as an actor and to embrace it in a way that doesn't guarantee success but definitely works for a lot of people. He's even become an acting teacher over the years as he had the desire to help others and show them the ins and outs of being an actor as they attempted to make their way into the business as well. The dedication this takes and the love of acting that inspires someone to teach it to others is impressive since it feels like not just anyone would bother to do this since let's be realistic, teaching is a bit difficult at times, and teaching one how to act on stage or on screen could be even harder since it's essentially teaching a person how to put themselves out in front of people, which some actors still have trouble with to this day if anyone can believe that.
On top of teaching, or rather, before he went into it, Eastin did start a career that's still going and has been ongoing for a few decades at least. He's starred in quite a few movies and been a guest on several TV shows in his time, which makes him a prolific actor that's easy to spot and that's able to match up with some of the biggest names in show business while not having to do much more than what he's already done. He's very good at playing the part of the individual that's gruff on the outside but has a heart of gold when you really get to know him. This is a character type that's a lot of fun to watch since they tend to appear as though they have no time for anyone or anything other than their own interests, but when they're laid bare they tend to be among the best characters in a movie or TV show. This has been one of Eastin's biggest strengths for a long time now, and it's been one of the things he tends to excel at since it's something he's done often. Looking at him it's easy to figure out why since he looks like someone that might be kind of gruff and short-tempered when a person first gets to know him but would warm up eventually once a person spent enough time around him. Those types tend to scare off a few people here and there, but if a person can get to know them it's usually found that they're some of the most kind-hearted people around and will bend over backward for those that they care about.
The only thing to wonder now is whether Steve is really like this or if it's just an act that he's managed to nail down in a very effective manner. Whatever the case, he's become someone that is highly dependable and can be plugged into a number of roles and be just as effective. That's one of the things that does count in Hollywood, being a reliable asset.