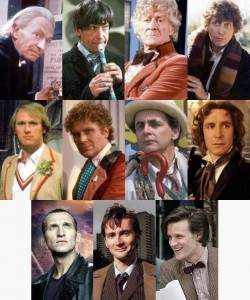 I have a prediction. Okay, so it's not really a prediction as much as it is a pipe-dream. The folks behind the new Doctor Who catch wind of the reaction to his new '˜look'and decide on a wardrobe makeover. I know, I know, some of you like it (fools), but to me it just doesn't jive with the youthful new image I was expecting from Doctor Who. Oh, to heck with being diplomatic about it – he looks silly! Suspenders? Really?
When it was first announced that a younger dude would be playing Doctor Who, I braced for the kvetching about how our 'Youth Obsessed Culture'was ruining everything, and it came. In fact, it came close to home. My wife, who is no old fuddy-duddy, was outraged at the idea of some twenty-something taking the sonic screwdriver duties. I understand the anxiety, David Tennant was one of the best Doctors ever – I think anybody who follows in his footsteps is going to have a tough time, at first. But the fluxing-facade of the Doctor is a tradition of the show, and part of what makes it what it is – an uber franchise that has weathered massive shifts in the sci-fi temperament as well – if not better – than anything out there. Now, back to these clothes.
A silly outfit is hardly going to break it for me. I'm sure Tom Baker's getup was down-right goofy at the time, but that collection of enormous scarves went on to symbolize the franchise. Every doctor was an extreme of style in one way or another, save for Christopher Eccleston's conservative black leather look. Flamboyant I can live with, but our young Matt Smith has been adorned in the threads of the patently boring.
Who knows, maybe I'll come to love this new Doctor Who get-up. I doubt it, but anything's possible. I think part of what has me in a tizzy over this is the fact that I actually liked the look they foreshadowed for him initially. I was mildly intrigued by the first photo of Smith outside of the Tardis – the one that featured a somewhat monochromatic ensemble of jeans, ribbed casual pull over, and unbuttoned sport coat. It was drab, but it was different.
I suppose how the Doctor is dressed is not as much of a concern as how the character arcs will hold up without the genius Russell T. Davies behind the wheel. In that regard, I'm not so concerned – the Doctor always pushes the boundaries of SciFi, no matter what he's wearing. (Onset images from WhoisMattSmith.com).
[imagebrowser id=43 template=flipped]