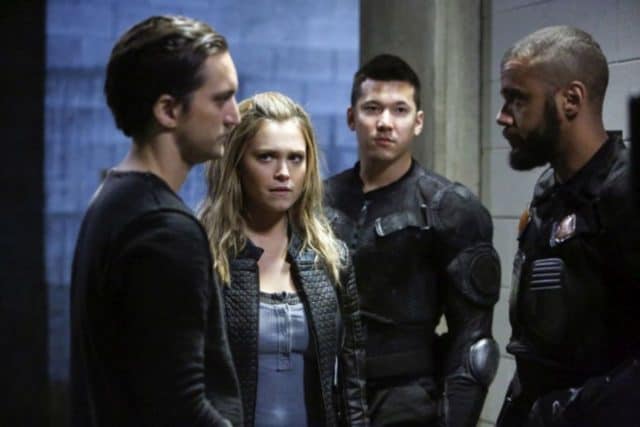 Probably my favorite thing about The 100 is that the intensity doesn't ever let up. I spend every episode on the edge of my seat. They have given us plenty of reason to believe that not every character will make it out of any given episode alive. The stakes are so high all the time that it makes this show constantly appointment TV. Now that the season is winding down (only TWO episodes left), it's the most exciting that it has ever been.
This week on The 100: Raven wrestles within her own mind whether she wants to live or die, and is visited by an old friend as she does it. Monty pushes for Harper and Jasper to join him in the bunker, but they continually push him away. Clarke and Jaha fight with Bellamy and Abby on whether the bunker door should remain open or closed. Octavia, Indra, and Kane stall for time.
Tonight's episode of The 100 said goodbye to a fan-favorite character, who was also one of my favorites, Jasper Jordan. Played masterfully for four years by all-around good guy Devon Bostick, who has tweeted me to correct my spelling more than once. At San-Diego Comic-Con last year, Jason Rothenberg told us in the press room that the ending of Season 3 was originally going to be Jasper blowing his own brains out. I was relieved when he said this, as I wanted to see Jasper on the show for another season. Though ultimately Jasper's story ended the same way, the circumstances in which it happened were much more poetic and cathartic than they would've been in Season 3. I'm sad to see Jasper go, but I'm ecstatic at the way things ended for him. May we meet again, Jasper.
On that same story, this episode could've vaulted even darker if Harper had followed through with Jasper's plan. But, that story ended on a happy note as Harper admits her love for Monty and staves off the desire to die. I'm ecstatic that Monty will not have lost everything by the end of this season, but it would have been interesting to see him play that in Season 5. I'm totally on board with the Harper thing, though.
With the clock ticking and the intensity of every minute of this episode, it still couldn't help but tug at my heartstrings. Not only did we have touching, cathartic moments for Jasper, Monty, and Harper, but when Sinclair was revealed in Raven's mind I got a bit misty-eyed. He was a phenomenal character gone too soon. But I was sure they wouldn't kill off Monty, Harper, Jasper, AND Raven. Turns out I was right about that. Raven Reyes will live to fight another day.
Of course, the most exciting plot pitted Jaha and Clarke against Abby and Bellamy, to save the lives of Octavia, Kane, and the rest of the grounders. This opened up several doors for the coming episodes and the next season. First of all, it was announced today that Isaiah Washington (Jaha) will NOT be a series regular in Season 5. Given the nature of this show, I expect that means that he will be the grounder equivalent of floated. Second, several of the primary, recognizable grounder characters have been killed off this season. Particularly Luna, Roan, and Ilian in the latest episode. So not only does this put everyone in close quarters, but it opens up a strong possibility that new and interesting characters will be introduced.
A few other thoughts:
Anyone wanna bet that Skaikru's list of 100 people conveniently leaves out Murphy and/or Emori?
Do Raven and Monty make it to the bunker on time now? I'm thinking Monty can make it, but even if he does…does he get in?
On second thought, I'm betting that Raven and Monty both show up 11th hour, making Jaha obsolete.
Seriously, I'm going to miss the heck out of Jasper. He couldn't have stuck around to try again with Octavia?
Obviously a ton has happened in this episode, and there are only a couple of episodes left before the season finale. Though Season 5 is imminent (renewal already issued) it's still a wild guess what that will look like. Life in the bunker? Life after the bunker? Only time will tell, but I'm excited to find out.
What did you guys think? Did you enjoy the episode? Let us know in the comments!
The 100 airs Wednesdays at 9/8c on the CW
The 100 Season 4 Episode 11 Review: "The Other Side"
Summary
Bellamy and Abby work against Clarke and Jaha to re-open the door to the bunker, on this week's exciting and emotional episode of The 100.