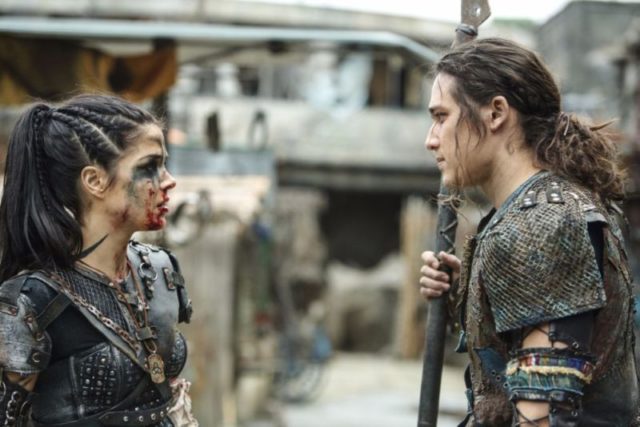 I have often praised The 100 as being intense, high-stakes, and unpredictable. However, all the previous times I have done this pale in comparison to "Die All, Die Merrily".  Putting multiple major characters in a Hunger-Games-esque battle to the death for the only bunker that can save everyone. It was exciting at every turn, and every twist made jaws dropped further toward the floor.
This week on The 100: Each clan selects a warrior to battle to the death. Ilian, Luna, Roan, and Octavia all enter the fray. Kane and Bellamy stay behind to advise Octavia. Bellamy stops another clan from gaining the upper hand. A champion is revealed. Skaikru commits the ultimate betrayal.
The 100Â does a phenomenal job of keeping the stakes high. When you watch, you never know if your favorite character is going to make it out alive. Unfortunately, if your favorite characters were (SPOILERS) Ilian, Luna, or Roan, they did not. I was genuinely worried about Octavia and Bellamy at different moments in the episode, and that's the absolute best part of this show. At literally any time, a major character can be killed to serve the story. No one is ever "safe". Rarely does a show come along where the stakes are so high, and that the plot remains unpredictable. For instance, since Zach McGowan just became a series regular, I thought maybe there would be some kind of ultimate truce between he and Octavia when they were the last two standing. Obviously, I was totally wrong about that.
I'm really nitpicking here, but my only complaint about this episode was that it was so much like The Hunger Games. I would have liked for it to be a little less directly related to something like that. But since it happened in a short time frame and many beloved characters' lives were at stake. Ultimately, this episode had a greater sense of urgency than I ever felt in any book or movie. It sometimes takes a whole movie to kill off as many characters as The 100 did in 45 minutes. So even if you're not exactly a Hunger Games super-fan (I'm definitely not), this story still has enough of its own flavor to be compelling.
Speaking to the show's uncanny ability to avoid predictability, Skaikru taking the bunker while the battle was happening was a phenomenal twist. I am usually savvy enough to predict the majority of plot twists, or at least get relatively close, but I did NOT see this one coming. At all. They kidnapped Bellamy themselves. They left Kane and Octavia to die. I'm both impressed with and terrified of what's to come, but I absolutely cannot deny the sheer excitement it created.
Here are a few other thoughts:
Indra was rooting for Octavia and not her clan, right? I mean, it seemed pretty obvious to me.
I may have audibly cheered when Octavia beat Luna. Marie Avgeropoulos is awesome.
I was nearly in tears when Octavia overheard Bellamy's vote of confidence to Roan. Even amidst all this action, there was still an incredible emotional element to this episode.
This was almost certainly the best episode of 2017, and it's way up there in all-time episodes of The 100, too. It was high-stakes, intense, and packed to the brim with action. I don't know what more you could want.
What did you guys think? Did you enjoy the episode? Let us know in the comments!
The 100 airs Wednesdays at 9/8c on The CW
The 100 Season 4 Episode 10 Review: "Die All, Die Merrily"
Summary
The 13 way battle begins and ends, and Skaikru makes a risky play in this week's phenomenal, epic episode of The 100.