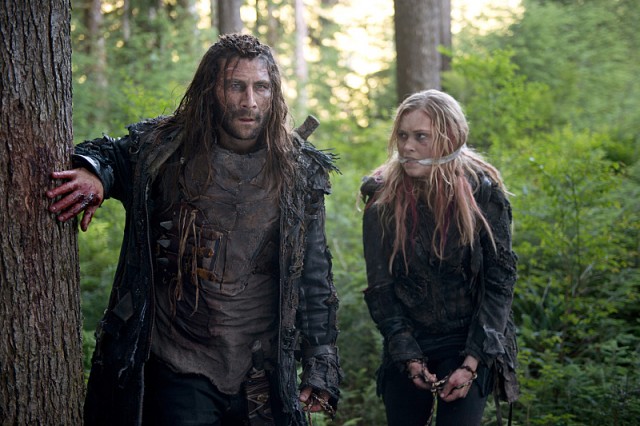 Just when you think that The 100 couldn't be more thrilling, gripping, or riveting, they go ahead and debut something that always seems to top the previous. The 100 has flown under the radar to become one of the best serialized dramas on television today. I was impressed with last week's premiere, but I was blown away by the follow up this week.
This week on The 100: Lincoln and Octavia run into Nyko, who is hurt. Abbie must take Nyko and the rest Mt. Weather to treat him. Clarke, after being captured, makes several attempts to escape. Monty, Bellamy and Kane are reunited with some fellow sky people, including Monty's mother. Bellamy goes off on his own to try and rescue Clarke. Murphy and Jaha continue their journey. Jasper struggles in his visit to Mt. Weather, and Octavia lends a shoulder to cry on. Clarke is brought before the person who ordered her capture, and it isn't who she expects.
First of all: Whoa! Let me get that out of the way. I don't know why I keep convincing myself that every episode will be the one in which they run out of  gas. Maybe I'm just used to it from other shows. But the truth of it is that The 100 doesn't slow down, or drop off in quality. It operates with conviction, it doesn't reverse character deaths or decisions. What makes the show compelling is that instead of creating an agenda with each character, they just roll with the tide and let things happen themselves. The situations all feel so organic and realistic, even though the show's reality is heightened. It's a really cool world they've built, and that really shows in dealing with the different armies and characters.
The acting is phenomenal on this show. Most of these actors are extremely young, but they really rise to the occasion. I've mentioned this pretty much every time, but Eliza Taylor's Clarke is of particular importance. She embodies Clarke with her whole self. Everything on her face and all her body language speak as Clarke. It's really incredible to get such a strong sense of character from so little dialogue.
Aside from Taylor, there are countless other actors on this show doing incredible work. Richard Harmon's Murphy is another great example. Last week, he  showed us this outstanding internal crisis while he was locked in the bunker.  This week he behaved like a normal human being because he was around a girl he liked. The most compelling thing about Murphy is that he easily could've been written off during season 1 as "lackey number two" and no one would've paid him second mind. But when they decided he should be in the mix of the show, that was an extremely strong decision.  Harmon does a fantastic job as Murphy.
So what's going on with the "City of Lights'? I mean, is this android just causing Jaha to lose his mind? Why was Lexa the one who ordered Clarke's capture? The best way to prepare for the next episode of something is to come in with questions, and I've got plenty after this episode. The flow of the story is wonderful, the cast is excellent, and the production value is top notch. If you haven't watched this show by now, you're missing out on something special. Time to get caught up!
What did you guys think? Did you enjoy the episode? Let us know in the comments!
The 100 airs Thursdays at 9/8c on The CW.
[Photo via The CW]
The 100 Season 3 Episode 2 Review:
Summary
The search for Clarke continues as Monty is reunited with a family member in this week's excellent episode of The 100.